By Steve Dunford 
SESSER –  I have spent a lot of times watching game film. live streaming broadcasts this week, and I have loved every minute of it.  I have been finishing up before tip-off of every game.  To say the least I am running behind.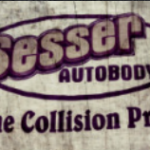 When something is meant to be, you hear something from multiple different places.  There has been different ones that said you can cover a game streaming, there is no reason why you could not write something listening to a radio broadcast.  Last night that is what I did.
I am going to give you the "Cliff Notes Version" of the game coverage.  Most of you have seen a lot of playing time since your sophomore year.  You were down 11 in the second quarter.  You could have folded up the tents and be content with playing Christopher at 3:00 p.m.
Three Seniors in. Lukas Gunter, Tyler Winchester, and Preston Launius, played like veterans down the stretch.  Winchester came up big.  Even though I was listening to Danny Czerwinski, there were several that had Winchester's shot posted.
Tonight, there will be a Goreville Blackcat team, that has been slated by several to end up in Peoria this year.  There will be at least two more battles in the conference this year.  I would not be surprised one bit if there would be a fourth down in Elizabethtown in the sectionals.
Just from experience, there is a huge line outside.  The doors open at 6:00 p.m.  It will be sold out at 6:15.  There will be people in the commons watching on video.
Most of you taking the floor tonight, I watched you grow up, even though I have not been around the last few years.  I was actually pacing the floor in the last two minutes.  It is a blessing, I will get to watch you play on Goreville's live stream.
I have a lot of respect for your coach and staff.  They to a lot of things right.  Most of all Coach Garner sets a Godly Example in front of you daily.
Across the way there will be another coach that has been very good to me since I have became a sportswriter  Coach Tripp will be clapping a lot to get your opponent going.   The coat will go off first.  Then the tie will, and sometimes the shirt tail.
There will be such a crowd there will be a soda cart brought out like at Busch Stadium.
I hope you will be cutting down some nets in about three hours.
Box Score from last night
SESSER-VALIER (65)  Winchester 3-2 6-7 18,  Launius 6 0 0-0 12, Boles 3 2 0-0 12, L. Gunter 6 0 0-0 12, Rock 4 0 0-0 8 Page 1 0 1-2 3,  J. Gunter 0 0 0-0 0, E. Gunter 0 0 0-0 0
WOODLAWN (64)  McKay 5 1 7-8 20, Fowkes, 4 2 0-3 13,  Rynski 3 1 3-3 13, Bennett 4 0 2-5 10, Hollenkamp 1 1 2-2 7, England 0 0 1-2 1
Line Score
SESSER-VALIER (8-4)    7 – 15 – 16 – 27  –  65
WOODLAWN (8-5*)     17 – 13 – 12 – 22 –  64
*Record includes this afternoon's loss to Christopher.