High School Construction Trades Class Completes Year-long Project
 Press Release from Regional Office of Education- District #21
Drivers navigating the Benton Public Square this past week or so may have noticed, not only the renovations to the former Campbell's Furniture building, now home to several county offices, but also a rather charming structure on display on its east parking lot. The "Tiny House", described as a fully-functioning house in condensed form, is a product of the first-ever multi-school district Construction Trades class, which included students from Benton, Christopher, and Sesser-Valier High Schools.
"Some creative thinking on the part of our Board of Control led us to be able to offer this class for students who have an interest in the building trades," said George Hopkins, Jr., Director of the Franklin County Regional (Vocational) Delivery System. "The 'Tiny House' project allowed them to get a lot of hands-on experience in carpentry and construction, and we now hope to sell the building through a closed-bid procedure, the proceeds of which will be used for next year's class projects."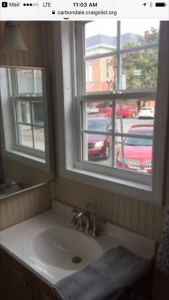 Hopkins pointed out that a minimum bid will be established, which basically will cover the cost of materials, and anyone interested in placing a bid is encouraged to pick up an informational bid sheet at the Regional Office of Education #21, now located in the new county office facility (Campbell's Building).
Some people are familiar with the "tiny house" concept through the popular HGTV prime time series that has highlighted the potential uses of such a basic, mobile, structure.
"I am aware that some folks have utilized these houses at lakes and hunting areas," Hopkins commented. "The TV show has spawned a growing interest in having amenities of home—heating, air-conditioning, kitchen, etc., without extravagant square footage.  Our students even included an outside deck on their project.  It's a neat little place!"
Hopkins points out that it took a village, so to speak, to make this program and Tiny House construction a reality.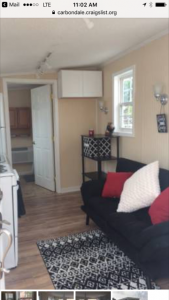 "A lot of people in the community…Kenny Hutchens, Doug Nolen, Jerry Randolph, and Ron House, who provided us a facility to build, all helped us pull this off.  Without their assistance, we'd have never met our deadline," the Director said.
Additionally, a $30,000 donation from philanthropist Robert Burton, a West Frankfort native who is CEO of Cenveo, Inc. in Stamford, Connecticut, took the Construction Trades class from planning stage to actuality.
"Mr. Burton's generous donation a year or so ago, that provided us with a mobile construction lab and all tools necessary for the project, made this program a reality in Franklin County, and we are indebted to him," Hopkins said.
After its stint on the Public Square, the Tiny House is now located at Benton High School, near the superintendent's office, until its sale in the next week or two.  Tours of the Tiny House will be conducted on Wednesday, May 24 and Thursday, May 25, 2017, from 9:30 a.m. until 10:30 a.m. so those interested in submitting a bid can view the property being sold.