George J. Spotanski Jr., 94, of Scheller, passed away on Sunday June 4, 2023 at SSM Good Samaritan Hospital in Mt Vernon, IL.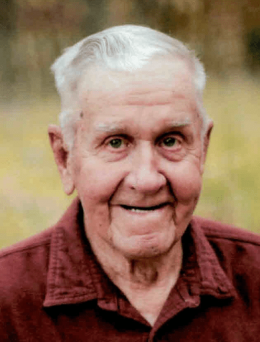 He was born on January 17, 1929 in St Louis, MO to George Michael and Anna Rose (Kurczynski) Spotanski. He married Evelyn (Czerwinski) Spotanski on May 3, 1952 and shared 57 years of marriage until her passing in 2010.
George is survived by his children Garry (Phyllis) Spotanski, Don (Debi) Spotanski, Cheryl (Donald) Martin and Susie (Steve) Doty all of Scheller; 11 grandchildren Tara (Jarrett) Biggerstaff, Tracy Spotanski, Tiffany (Kyle) Kluck, Brandon (Kandace) Spotanski, Melissa (Tim) Bathon, Jennifer (Ryan) Blankenship, Kathy (Ryan) Lott, Tony (Jessica) Martin, Christina Martin, April (Joe) Emery and Emily DeForest and friend Corey Braden; 26 great grandchildren and several nieces and nephews
He was preceded in death by his parents, wife Evelyn Spotanski and his brother Leroy Spotanski.
George was a member of the St Mary's Catholic Church in Sesser and St Barbara's Catholic Church in Scheller. He had worked at Wagner Electric & Dowzer Electric in Mt Vernon. He was retired from Sesser Concrete Products and was an Active Farmer. He enjoyed spending time with his family and friends, especially his visits with Special Friends JoAnn Butler and her daughter Patti Doerr. He especially loved seeing his Grandchildren and Great Grandchildren. He enjoyed Bowling and had a special bond with his teammates.He also enjoyed mowing grass and an occasional trip to a Casino or going with his niece Vicki to Mississippi as well as watching the St. Louis Cardinals.
Funeral Mass will be on Saturday June 10, 2023 at 10:00 AM at St Barbara Catholic Church in Scheller with Father Nick Junker officiating. Visitation will be on Friday June 9, 2023 from 5:00 PM until 8:00 PM at the Brayfield-Gilbert Funeral Home in Sesser. Burial will be at Maple Hill Cemetery in Sesser.
For more information go to our website www.gilbertfuneralhomes.com