Latest
Butter sculpture at Springfield
"Chalk Benton" at Benton Community Park on Saturday, July 31
Featured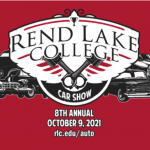 September 20, 2021
INA, IL – Help support the next generation of automotive enthusiasts by participating in the 8th annual Rend Lake College Car show.
August 13, 2021
A county-by-county look at lab-confirmed COVID-19 cases in Southern Illinois, updated daily. Last updated: 10:30 p.m., Thursday, August 12.
August 13, 2021
Southern Illinois business impacted by the COVID-19 pandemic may be eligible for financial assistance through the Illinois Department of Commerce and Economic Opportunity's new "Back to Business" grant program.
Featured News
August 13, 2021 By Jim Muir Leave a Comment
As Gary Moore's son, I had a unique vantage point to get to know my father in a way that almost nobody else could. He was a fantastic father!
Latest in Sports
Nearly six months after the Chicago Cubs signed right-hander Jake Arrieta, a pairing both sides envisioned as a fruitful reunion, he briefly paused while weighing a postgame question.
DYERSVILLE, IOWA — The diamond where the movie "Field of Dreams" was filmed was a long relay throw away.
August 13, 2021
CARBONDALE — SIU defensive coordinator Jason Petrino wants to feel good about eight defensive linemen when the Salukis open the 2021 season at Southeast Missouri State.
August 13, 2021
Saluki Athletics will host its 10th Saluki FanFest event on Wednesday, August 25th, at Saluki Stadium from 7-8 p.m. Parents can sign-up their children (age 12 and under) for Brown Dawg's Kids Club and receive a free membership t-shirt.
Breaking News
September 20, 2021
Approved revisions to Rend Lake College Policy and Procedure 3.1530 – Holidays, second reading, effective September 14, 2021
August 13, 2021
Waukegan, Illinois, police have arrested a man accused of trying to lure two female juveniles into his vehicle on Aug. 7.
August 13, 2021
Progress continued on a couple of different construction projects on the Rend Lake College campus.
August 13, 2021
Top Republicans on Friday called on the Biden administration to act on the crisis at the southern border after leaked audio emerged of Homeland Security Secretary Alejandro Mayorkas calling the situation there "unsustainable."
August 13, 2021
On the night Chicago police Officer Ella French was shot to death and her partner badly wounded, the two were working on a roving team tasked with patrolling areas around the city prone to spikes in violence and other crime. Here's a link to the story at the Chicago Tribune.
August 13, 2021
SPRINGFIELD — Downstate Illinois is continuing to hollow out, with U.S. Census data, released Thursday afternoon, confirming the region's losses as the main driver of the state's population loss over the past 10 years