Latest
Agriculture is now Illinois' top industry
State troopers pose as construction workers to nab speeders
Featured
September 10, 2019
BENTON–There are things that happen in life, even though hard to explain, that can be passed off as coincidence. And then there are other things, regardless of how much a person tries to reason, that simply have no explanation. Such was the case recently in Benton when a simple phone call produced a chain of events that could only be described as eerie.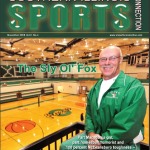 August 18, 2019
Dressed in a green wind suit – McLeansboro's favorite color Kelly green of course – Curt Reed is a man in perpetual non-stop motion.
August 15, 2019
The word 'hope' is defined by Dictionary.com as follows: to believe, to desire and to trust that what is wanted can be achieved.
Featured News
August 5, 2019 By Jim Muir Leave a Comment
During the most recent round of Democratic presidential debates, nearly all the leading candidates reiterated their commitment to transition the U.S. health insurance industry to a "Medicare-for-All," government-run model. Some promised to do it more quickly than others, but in the end, the result would be the same: the federal government would control health care within a decade.
Latest in Sports
The Southern Illinois Miners beat the Evansville Otters Saturday at Bosse Field to win their 700th game as a franchise, becoming the fastest team in Frontier League history to that milestone. The win also clinched the weekend series with their third victory in a row and seventh in their last nine games.
CARBONDALE — The Sunshine Slam in Kissimmee, Florida, will arrive a little earlier than SIU's men's basketball team would like, but should be a great test for the new-look Salukis.
August 5, 2019
CHICAGO — Jason Heyward drove in three runs, Yu Darvish pitched five effective innings and the Chicago Cubs beat the slumping Milwaukee Brewers 7-2 on Sunday to sweep their weekend series. Here's a link to the story at the Chicago Tribune.
August 5, 2019
OAKLAND, Calif. — Regardless of what team appears on their schedule for tomorrow or who the box score shows they faced yesterday, Cardinals manager Mike Shildt repeatedly has said this season that his team's opponent, day in and day out, does not change.
Breaking News
August 5, 2019
A public finance watchdog said a recent credit rating outlook change for Illinois may be good for bondholders, but it's not necessarily good for taxpayers.
August 5, 2019
Americans have accumulated more than $1 trillion in credit card debt, and that number will increase by tens of billions of dollars this year, according to a report by the consumer finance site WalletHub .
August 5, 2019
An Illinois state senator accused of embezzling nearly $275,000 from a labor union said Friday that his indictment was based on false claims by a former Teamsters boss who recently pleaded guilty to extortion.
August 5, 2019
A taxpayer advocacy group is touring parts of Illinois highlighting what it said are lavish public sector pensions in an effort to spur change.
August 5, 2019
Illinois' governor and a Hollywood producer don't want a corruption scandal involving a union boss and a film production house to dim the lights of making pictures in the Windy City.
August 5, 2019
A task force to find property tax relief for Illinoisans who pay the second-highest property tax in the nation is expected to come up with a plan by the end of the year.