Latest
Grant will help RLC students pay for childcare
Huge auction in Valier on October 24, 2021
Mr. A Day!
RLC President Terry Wilkerson (standing) is pictured with Gene "Mr. A" Alexander during a ceremony on the Ina campus that honored the longtime Benton educator.
Featured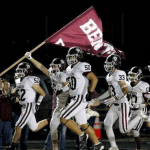 November 11, 2021
In another life, I worked as a writer/columnist at both the Benton Evening News and the Southern Illinoisan.
November 2, 2021
SPRINGFIELD — A state Senate committee revived a gambling bill Wednesday that would allow for limited betting on in-state college sports teams, sending it to the full Senate for consideration.
November 2, 2021
When Chicago attorney Jerry Latherow paid $18,000 to buy four permanent seat licenses at Soldier Field last year, the Bears season ticket holder upgraded from a nearby section to get a better view of the scoreboard.
Featured News
September 30, 2021 By Jim Muir Leave a Comment
(CNN)I vaguely remember when I first heard a rumor about an alleged R. Kelly sex tape. I was in college and a casual fan of the singer, songwriter and producer. Within days, I heard that the other person on the tape was a teenage Black girl.
Latest in Sports
Dorothy Gaters said she cannot remember anything about the first game she coached for Marshall Metropolitan High School's girls basketball team in 1975.
Here are the highlights from sports columnist Ben Frederickson's weekly chat with St. Louis sports fans
September 30, 2021
As the season-saving gust gave out beneath their wings and an end came to the second-longest winning streak the National League had seen in 105 years, the Cardinals could shift their focus from what no team had done in decades to what they must do in a week.
September 30, 2021
Drenched in the clincher's spoils of champagne and beer, some of it poured over him by rookies, Nolan Arenado had the chance late Tuesday night on the field at Busch Stadium to introduce his wife, Laura, to some Cardinals teammates, such as Dylan Carlson.
Breaking News

September 30, 2021
INA, IL – Rend Lake College is once again inviting the community out for a "Spooktacular" night of music just in time for All Hallows' Eve.
September 30, 2021
MURPHYSBORO — After a being cancelled in 2020, Praise The Lard – Murphysboro Barbecue Cook-Off drew nearly 100 teams from 14 states to compete for prizes totaling $27,500.
September 30, 2021
The Eurma C. Hayes Center is a mess today due to construction, but Bob Wills, executive director of the center, says the mess is necessary to renovate and bring services to Carbondale's Northeast community.
September 30, 2021
Amid all the focus on COVID-19 vaccinations, U.S. health experts have another plea: Don't skip your flu shot.
September 30, 2021
Ten teachers in the Metro East who refuse to comply with statewide vaccine and mask mandates are suing their school districts over the policies.
September 30, 2021
Reproductive rights activists are hosting marches and rallies across Illinois on Saturday to support abortion access nationwide and protest recent restrictions in Texas, which have all but banned the procedure there.