Latest
Mike Meinert named Outstanding Faculty Member of the Year At RLC
Looking for a laugh? Comedy Night back at Rend Lake College
Featured
May 25, 2022
(Editor's Note: I wrote this column in 2012, a decade ago, on the day following the shooting deaths of 26 people at Sandy Hook Elementary School, in Newtown, Connecticut. In the list of those killed, 20 were first grade students. Reading today about yet another shooting massacre at an elementary school in Uvalde, Texas, this […]
April 5, 2022
INA, IL – Mike Meinert was not sure what he wanted to do when he was in college, but a career in education was "the furthest thing from my mind."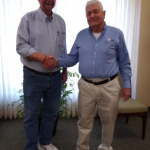 April 5, 2022
The Southern Illinois Old King Coal Festival is proud to announce Denzil Ray Stubblefield of West Frankfort has been selected as 2022 Old King Coal. Stubblefield will reign over the festival May 12th thru May 15th in downtown West Frankfort.
Featured News
December 31, 2021 By Jim Muir Leave a Comment
The start of a new year means millions of Americans will begin to write down their goals and aspirations for the upcoming year.
Latest in Sports
COBDEN — Last summer, the historic home gym of the immortal Cobden Amazing Appleknockers was condemned and locked up waiting to be demolished and replaced by a modern state of the art facility.
SESSER — A strong second-half defensive effort enabled the Sesser-Valier Red Devils to rally from a five-point halftime deficit and defeat the Christopher Bearcats, 37-31, in the championship game of the 40th Annual Sesser-Valier Holiday Tournament.
December 31, 2021
The problem with having a hot stove league without the hot stove is it doesn't deter baseball fans from pretending the stove still exists.
December 31, 2021
CARBONDALE, Ill. — In a key, early-season Missouri Valley Conference matchup, Southern Illinois hosts Loyola on Sunday at 4 p.m. in a nationally televised game on ESPN2.
Breaking News
April 5, 2022
Two Franklin County offices are taking a giant step into the 21st Century.
December 31, 2021
SPRINGFIELD — With nearly 300 laws taking effect on New Year's Day, Illinois lawmakers have resolved to hold themselves to a higher ethical standard, stay the government's regulatory arm on young entrepreneurs and review ways to revive the struggling local journalism industry.
December 31, 2021
JEFFERSON COUNTY – Two people are dead following a two-vehicle crash along Interstate 57 on Wednesday.
December 31, 2021
WAYNE COUNTY, Ill. — The family of a sheriff's deputy who was killed here by a man who went on to carjack, rob and shoot more people during a two-state manhunt this week said Friday their son, husband, father and friend was a hero.
December 31, 2021
Chicago has recorded nearly 800 criminal homicides just before the New Year's Eve holiday, according to police, marking a small increase over last year and a more than 60% increase from 2019.
December 31, 2021
WAYNE COUNTY – Charges have been brought against Ray Tate for the alleged fatal shooting of a Wayne County deputy while various organizations raise funds for the family.