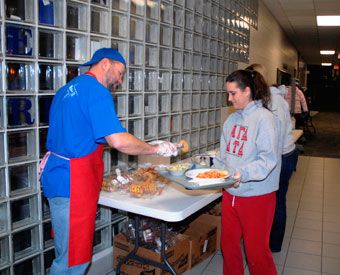 By JOHN D. HOMAN, Logan Media Services
The John A. Logan College Foundation will host its 37th Annual Italian Dinner fundraiser from 4:30 p.m. to 7 p.m. on Wednesday, Jan. 23 in the college cafeteria.
The dinner includes spaghetti, salad, garlic bread sticks, cookies and a soft drink at a cost of $8 for adults or $3 for children 10 and under. The price for JALC students is $5. Carryouts will be available. Advance tickets are also available at the Foundation office (B33) or by calling the college at 985-2828, X8355.
Monies raised from the dinner benefit the Foundation, which provides scholarships for students.
As an added bonus, the Logan women's and men's basketball teams will play host to Lewis & Clark College. As it is "Carterville Night," the high school band, cheerleaders and poms are scheduled to perform.
"We are looking forward to this year's dinner," said JALC Foundation Executive Director Staci Bynum. "While it is a fundraiser for scholarships, it is also a great opportunity for our board of directors to meet with Foundation supporters. We really enjoy talking with people in the community who are as interested in seeing John A. Logan College students succeed."
Bynum said about 400 meals are served each year at the fundraiser.
"And we hope to see that number grow," she said. "We hope folks will dine in and then go upstairs to watch the games – make an evening of it."
JALC President, Dr. Mike Dreith said he is looking forward to the dinner.
"I understand this is a wonderful tradition for the college," he said. "My wife (Carol) will attest that I am a huge fan of Italian food and so can my waistline. The funds are important, but not as important as the camaraderie within the campus community and the communities we serve."
Bynum said the fundraiser wouldn't happen without the support of the college's extended family, student ambassadors and Foundation board members.
"We really do have a great group of people supporting the Foundation and we are grateful for them all," she said.