Press release from the Benton Fire Department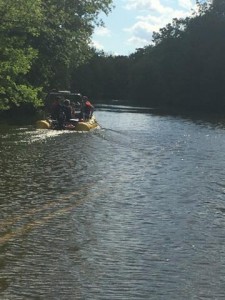 On Saturday May 6, 2017 at 3:50 pm The Benton Fire Dept. Dive-Rescue team was requested mutual aid to the West City Fire Dept. for a male subject on the roof of a vehicle submerged in water on Yellowbanks Rd.
Upon arrival of Benton Engine 801, Utility 809 and Boat, the decision was made to deploy the boat due to 5 ft. deep water over the roadway where the subjects vehicle had been swept off. The subject was subsequently rescued from the water and care transferred to Abbott EMS where he was treated for exposure to the elements and a previous medical condition. Franklin County Sheriff's Dept. assisted.