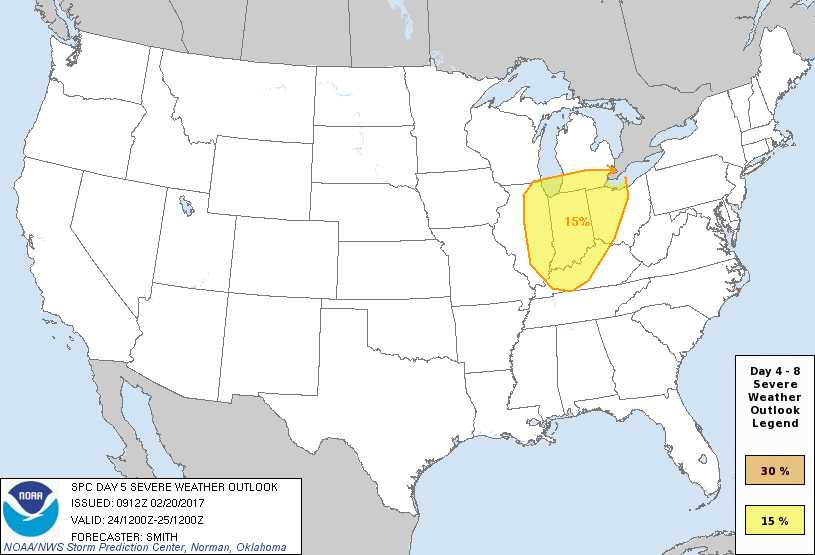 It is going to be sunny today with a high temperature in the lower 70's
Tonight there is a 70% chance of showers and thunderstorms after midnight with the lows in the middle 50's
Tomorrow there is a 40% chance of rain with highs in the upper 60's, lows in the upper 40's
Wednesday and Thursday will be partly sunny with highs in the lower 70's lows in the mid to upper 50's.
Friday might be interesting around here.  The Storm Prediction Center has everything basically east of I 57 in a fifteen percent chance of seeing severe weather.  I know that sounds low, but it is equivalent for being under a slight risk.  (See graphic above)
When the SPC has an area highlighted five days in advance, the confidence is pretty high.
Here is the hazardous weather outlook from the National Weather Service in Paducah, KY
.DAY ONE…Today and Tonight A small chance of thunderstorms will spread eastward across southeast Missouri into southern Illinois and the Purchase Area of west Kentucky tonight, mainly after midnight. A brief heavy downpour and a few lightning strikes will be the primary concerns. .
DAYS TWO THROUGH SEVEN…Tuesday through Sunday Chances of thunderstorms are forecast for all or a portion of the region Thursday afternoon through Friday. The best chances will be east of the Mississippi River Friday afternoon, when a few severe storms with damaging winds cannot be ruled out. Otherwise, locally heavy rainfall and lightning will be the primary concerns.
It will be much cooler for the weekend with highs in the upper 40's to lower 50's.
There will be more information to pass along to you on Friday.