INA, IL – Rend Lake College is once again inviting the community out for a "Spooktacular" night of music just in time for All Hallows' Eve.
The Halloween Concert will be held in the RLC Theatre on Thursday, Oct. 21, at 7 p.m. The free event features performances from the RLC Choir, the RLC Concert Band as well as the Southeastern Illinois College Choir.
RLC Music Professor Sara Alstat-Sanders said the first collaborative Halloween Concert happened in 2019. The blending of the two college choirs provides the chance to work on more complicated arrangements.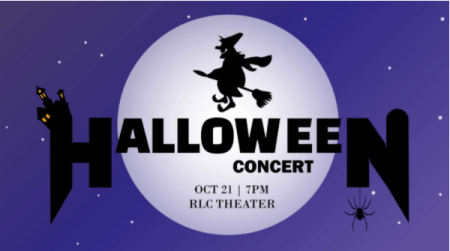 "It gives our students an opportunity to perform with a larger choir," Alstat-Sanders said. "We will be able to combine additional voices and have more selection."
Musical selections for the choirs include songs from popular film and stage productions. The setlist features "The Hanging Tree" from "The Hunger Games" movie franchise; the title track from "Tim Burton's The Nightmare Before Christmas;" and a medley from the hit Broadway show "Little Shop of Horrors."
Others included in the collaborative performance are "Old Abram Brown" and "Et in terra pax."
The RLC Concert Band includes college and high school students as well as members of the community. For the Halloween Concert, the band will bring its own brew of performances. Renditions include "Mars," "Shadow Waltzes," "The Witching Hour" as well as selections from "Suite from Symphonie Fantastique."
With the Halloween holiday right around the corner from the concert date, Alstat-Sanders said the return of live performances on the RLC campus is sure to be a hauntingly good time.
"We're hoping to get everyone in the spirit," she said.
For more information about the RLC music department, visit rlc.edu/music.