Scott Allen Chess, 49 years old, passed peacefully in his sleep with his fur-baby Mattie at his side.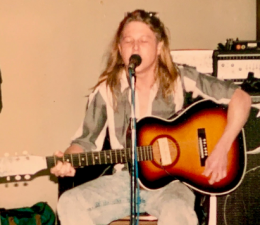 Scotty was known for his love of music and love of his daughter Sami, granddaughter Cecilia. Along with his mother whom he worshipped and loved endlessly. Scotty was born in Valparaiso, Indiana. He attended Kouts High School, was very active his high school band and he always had the love for music.
Scotty was a very talented musician, had a passion for music. He was self-taught guitarist, drummist, and pianist, and sang like a bird on the wing of a dove. Scotty was very well known for his love of his Rock and Roll band "Devil Dogs" which he started in 1989. Scotty also enjoyed fishing, boating on the Kankakee River, and spending time with his friends. When he walked into a room, he commanded it with lively personality and entertaining stories of his days when he spent endless hours of fun with his cousins and friends. One couldn't help but be drawn in and expect nothing but laughter to follow.
He is survived by his daughter Samantha (Sami), granddaughter Cecilia (CC) whom he loved and worshipped beyond eternity. His Mother Sharon Witkowski, who was not only his best friend, but his "Hero in Life". Along with his Aunt Sarah who was always his kindred spirit. Many Aunts and Uncles, and cousins by the dozens whom loved him.
Scotty was preceded in death by his younger brother Jeffery Witkowski, his step brother Vincent Witkowski (Grit), his father Richard A Chess, his step-dad David Witkowski. His Grandparents Charles and Maryetta Oestreich and his Uncle Mike Grcich whom taught him how to fish in the Kankakee River.
Gilberts Funeral Home in Christopher Ill. In charge of cremation arrangements. A Celebration of Life to be held at a later date at the Kankakee River. Along with celebration Bonfire at the Grcich Cabin in Winamac Ind. In lieu of flowers, donations can be sent to for Scotty Chess to GoFundMe.com Funeral Expenses, organized by Christina Cobb help offset final expenses.
For more information go top our website www.gilbertfuneralhomes.com