From the U.S. Postal Service, St. Louis Region 
SPRINGFIELD, IL — Illinois, our nation's 21st state, will celebrate its bicentennial Dec. 3, 2018. To celebrate this milestone, the U.S. Postal Service dedicated the Illinois Statehood Forever stamp today at the Abraham Lincoln Presidential Library in Springfield.
"We are thrilled to honor Illinois as a state that has been instrumental to American ingenuity and the American spirit," said U.S. Postal Service Acting Customer and Marketing Officer and Executive Vice President Jacqueline Krage Strako in dedicating the stamp. "The truth is: Illinois defies simple definition. It's cosmopolitan and quaint, tough and nurturing — all at the same time. It's a state with broad shoulders, a caring heart and Midwestern grit and values. Illinois is where the heartland calls home."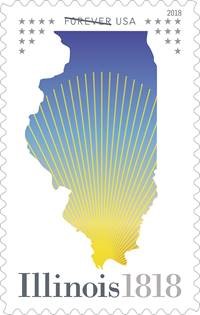 Joining Krage Strako in the dedication were Illinois Governor Bruce Rauner (via video), Deputy Governor Leslie Munger, Springfield Mayor James Langfelder, Illinois Bicentennial Commission Co-Chair Randy Dunn and Illinois State Historian Sam Wheeler.
"The U.S. Postal Service has designed a remarkable stamp to commemorate our Bicentennial," said Rauner. "This Statehood Stamp reminds us of the many great contributions Illinois has made to the country and society over the past 200 years. We're grateful to stamp designer and Illinois artist Michael Konetzka for his creativity."
"We thank the United States Postal Service for The Illinois Statehood Stamp, an important and exciting piece of our Bicentennial celebration," said Munger." This national recognition of our state's 200th birthday is a tribute to Illinois' rich history and makes us all Illinois proud."
Stamp ideas welcome
The public is encouraged to submit stamp suggestions. Visit the Citizens' Stamp Advisory Committee website for details on the stamp selection process and instructions for submitting suggestions in writing. Due to the time required for research and approval, ideas for stamp subjects should be received at least three years prior to the proposed release. Each submission should include pertinent historical information and important dates associated with the subject.
 Ordering First-Day-of-Issue Postmarks
Customers have 60 days to obtain first-day-of-issue postmarks by mail. They may purchase new stamps at Post Office locations, at the Postal Store usps.com/shop or by calling 800-782-6724. Customers must affix the stamps to envelopes of their choice, address the envelopes to themselves or others and place them in larger envelopes addressed to:
FDOI –Illinois Statehood Stamp
USPS Stamp Fulfillment Services
8300 NE Underground Drive, Suite 300
Kansas City, MO  64144-9900
After applying the first-day-of-issue postmark, the Postal Service will return the envelopes through the mail. There is no charge for postmarks up to a quantity of 50. For more than 50, customers are charged 5 cents each. All orders must be postmarked by July 5, 2018.