CHICAGO—February 27, 2018: Seventeen counties in Illinois are getting a share of $2.7 million to serve children who are victims of violence.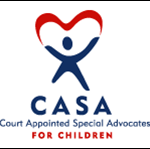 Illinois Criminal Justice Information Authority (ICJIA) Executive Director John Maki announced the grant awards today. The money will help fund organizations whose advocates are trained in trauma-informed practices and offer emotional support to those who have been victimized.
"We know that less than 10-percent of children who are victims of violent crimes, such as rape, robbery, or aggravated assault, get the emotional support they need," Maki said. "These awards will help us engage them more quickly, get them connected with someone who will help them navigate through the court process, and pave the way to more positive outcomes."
The grants are funded with federal fiscal year 2016 Victim of Crime Act funds and were awarded through a competitive process.  Franklin County CASA was awarded $41,396, and Williamson County CASA was awarded $54,187.
ICJIA is dedicated to improving the administration of criminal justice through work in the areas of grants administration, research and analysis, policy and planning, and information systems and technology. Visit www.icjia.state.il.us.