WASHINGTON, D.C. – House Committee on Veterans' Affairs Subcommittee on Oversight and Investigations Chairman Jack Bergman (R-MI) and Representative Mike Bost (R-Murphysboro) called on U.S. Department of Veterans' Affairs Secretary David Shulkin to make changes in the Human Resources department at the Marion VA Medical Center.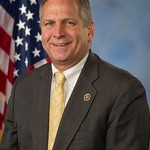 "Our heroes deserve the best care possible, and unqualified leadership in the HR department at Marion prevents that from happening," said Bost. "That's why I have appealed directly to the VA Secretary to get an HR team in place at Marion that can clean up the mess. We've heard stories of grossly inconsistent salaries among staff, low morale, and a lack of proper training and discipline. Serious HR changes need to be made, and fast. Our veterans deserve better than this."
 "Effective leadership can only be achieved by assembling a qualified team with a defined objective," said Bergman. "After months of investigations conducted by the House Veterans' Affairs Committee, it has become clear that the Marion VA Medical Center's HR department has failed to meet its core missions. Secretary Shulkin has begun the important task of changing the culture within VA, which is why Congressman Bost and I have appealed to him directly seeking immediate change in the facility's HR department. By putting in place a highly motivated and effectively led HR department, the Marion VA will be able to provide Veterans with the quality and timely care they have earned."
 The full text of the letter is available here.