In the holiday classic "A Christmas Story" the main focus of the movie is the desire and outright obsession of young Ralphie to convince his parents, Santa Claus or anybody else that would listen that he desperately needs a Red Rider BB gun for Christmas.
As you will remember, at every turn Ralphie is met with the comment: 'You'll shoot your eye out.'
Substitute a gold Schwinn stingray bicycle for that Red Ryder BB gun and during the weeks leading up to Christmas in 1963 I could have very well been Ralphie (minus the horn-rimmed glasses).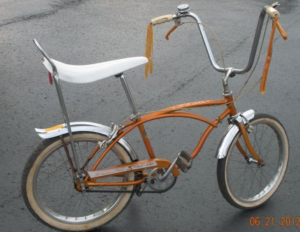 About two months before Christmas that year I was with my dad at a West Frankfort business where he was getting tires put on an old truck that he used to haul coal. Along with tires the store sold a variety of items including bicycles.
As I sauntered around the story that day I spotted a bicycle that was unlike any I'd ever seen. It was a Schwinn stingray, metallic gold and it had what was called butterfly handle bars and a banana seat. The front tire was a little smaller than the knobby tire on the back. It had chrome all over it and a price tag of $39.95. In order to appreciate that price you have to think in 1963 dollars. The price tag on the bike amounted to more than my dad made in two days as a coal miner.
As I stared at the bike I learned an early lesson in life – there is such a thing as love at first sight.
Before we left I coaxed my dad over to the bicycle to show him. He casually glanced at it, obviously not nearly as impressed as I was and then quickly burst my bubble.
"That's too much money for a bicycle," he said matter-of-factly, and then turned and walked away.
Did his uncaring, detached attitude faze me? Of course not, in fact it spurred me on to scheme and plot my strategy.  In the following days I concocted every reason imaginable why I should have that bike and brought it up on a daily basis. And for every good reason I had my dad gave me the same stern answer.
"That's too much money to pay for a bicycle," and then he promptly changed the subject.
And the harder I would persist the more short and abrupt were his answers. I was in a gloomy mood two days before Christmas when I gathered with a group of fellow heathens to play basketball.  The house where we were playing was about four blocks from where I lived, but was located directly across the street from my Aunt Thelma. Shortly after I arrived at the game one of my friends told me that he had seen my parents at my aunt's house earlier in the day.
"I couldn't see exactly what they were doing but they were putting something in her garage," he said.
Realizing even at that young age that curiosity killed the cat I still couldn't stand it and had to do a little investigating. Shortly before dark that night I walked down the alley and with the help of a milk crate looked in the window of the garage.
And what to my wondering eyes should appear, but that gold Schwinn stingray bike. I was elated, excited, joyous … and scared to death. You see, I've never been able to lie about anything in my life without my eyes giving me away, so I had to pretend like the events of that afternoon never happened and then turn in an Academy Award acting performance on Christmas morning.
I'm certain I had a little extra spring in my step in the final days leading up to Christmas morning but I managed to contain my enthusiasm and keep my mouth shut (which was no small task for me even back in those days).
On Christmas morning I bounded out of bed and turned in an acting performance that was simply superb. I hooted and hollered, yelled and screamed and within a matter of minutes and still in my pajamas I was riding that spectacular bicycle down the street with the cold December air hitting me in the face. More than 50 years later I can still recall what a wonderful feeling that was and what a wonderful Christmas I had that year.
Of course, during that unforgettable Christmas in 1963 I also learned an important lesson that I filed away for future reference with my own children. Parents should never, ever hide Christmas presents in a building with a window because you can never tell when some nosy kid is lurking in the shadows.
From my little corner of the world to yours … Merry Christmas!