by Steve Dunford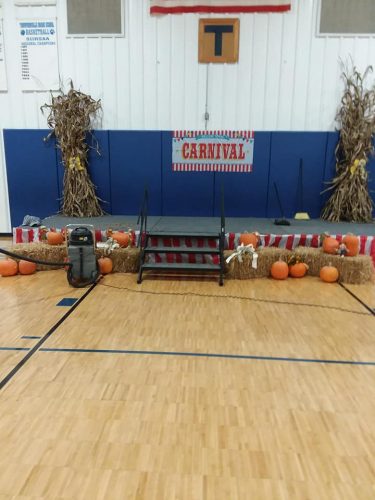 THOMPSONVILLE, IL –  In a tradition that goes back, and don't quote me on this, but since TCHS was established as a four year high school in the early 40's this has been an annual Thompsonville tradition.
Times have changed and the events have, but the carnival is still going strong.
When I was in school it was one of the highlights of the school year.  Other than short co-ops with West Frankfort and Johnston City, the Tigers have not fielded a football team.  Homecoming is during the basketball season, and this was like a second event.
The events of the night are the following
Chili Supper 4:30 to 6:30 p.m.
Carnival Games 6:00 to 8:00 p.m.
Cake Walk 6:00 to 8:00 p.m.
Car Smash 6:00 to 8:00 p.m.  (bash in your "favorite" teachers name.  It is clean and legal to smash in Mrs. Blades)
Costume Contest (pre-K to 5th, 6:30 p.m.)
Silent Auction 6:00 to 7:45 p.m. (With 64 baskets)
Winners announced for the auction and raffle 8:00 p.m.  (There is a raffle for two half hogs, processing fee included)
Collection of votes for King and Queen 8:00 p.m.
Coronation 8:30 p.m.
On this cold, rainy night, even if you are not from Thompsonville, make the short drive over there for a great time.