The Mt. Zion Free Will Baptist Church will be performing the play. "A Savior is Born" tonight at their annual Christmas play and program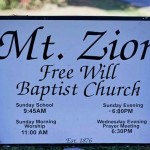 at 6:30 P.M.
From attending previous programs in the past, it is your old school, traditional, Christmas program that country churches frequently had in years gone by.
There will be soup, supper, snacks and most of all a time of fellowship after the service.
The church is located on South Thompsonville Road, 2 1/2 miles south of Thompsonville.  Everyone is encouraged to attend.