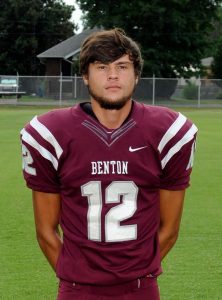 Today's Senior Football Spotlight is wide receiver, corner and kick returner # 12 Ty Gordon. Ty is the son of Jesse & Bobbi Gordon.
Ty has been playing football for seven years (4 years at Benton High School and 3 years in the BJFL). His interests include playing football, working on his truck and riding 4-wheelers with his friends.
His plans for the future are to go to college after graduation and become a diesel mechanic.
Ty would like to thank his parents and his coaches for always supporting him and pushing him to do his best.