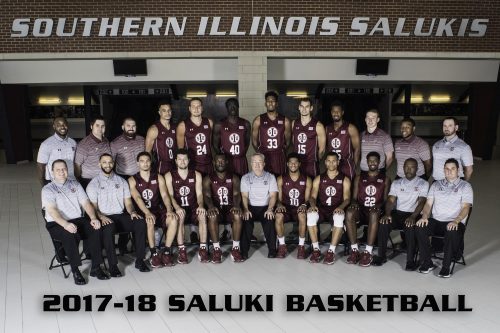 CARBONDALE, IL – On behalf of the Saluki Men's Basketball Family: In light of recent events involving race relations in the United States, our team has placed an emphasis on understanding the sacrifice that men and women make every day serving our country. After in-depth discussions with members of local law enforcement and Saluki alum and veteran Harvey Welch, we have decided as a team that we will stand and place our hand over our hearts for the playing of the national anthem.
We stand with our hand over our hearts for the playing of the Star Spangled Banner to show the utmost respect and gratitude to those who have served and continue to serve our country. We are forever indebted to the men and women who have given their lives in order for us to have the freedoms bestowed by the First Amendment. As racial injustice continues to be seen around America, it is clear that change is needed. We respect the right people have to protest, but believe the true way for change is coming together as a society.
Before every game we walk past a quote by Rick Warren that says, "It's not about you!" We choose to embody this not only by our play on the court, but also in our actions off of it. Thank you.