by Tom Weber- Associate AD/Communications – Southern Illinois University, Carbondale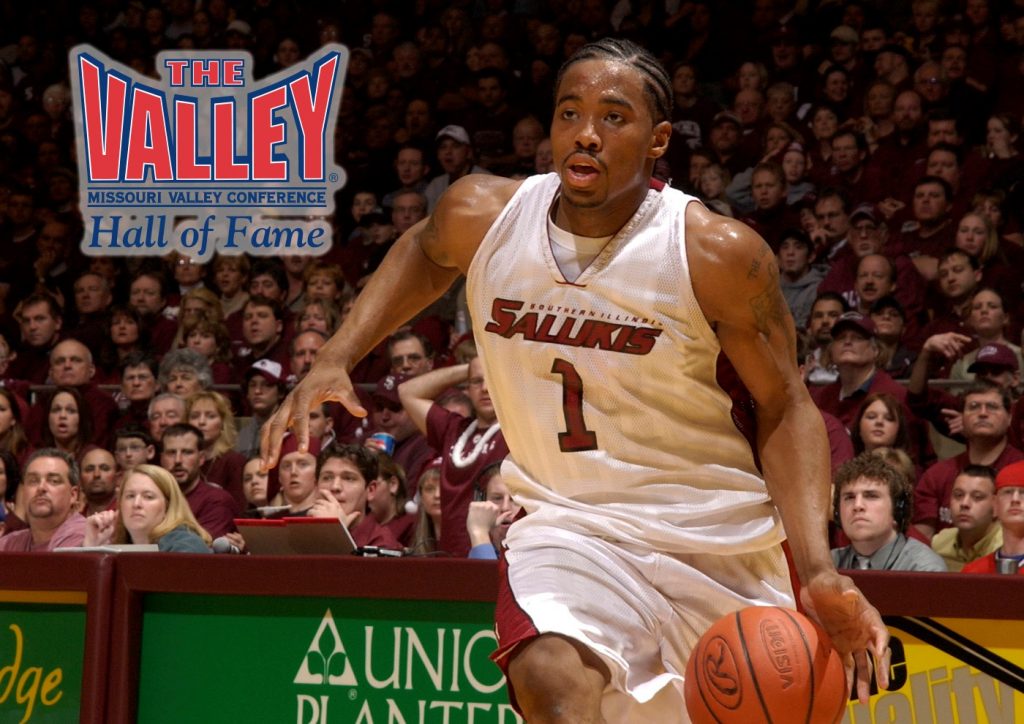 ST. LOUIS, MO – The Missouri Valley Conference will honor its past when the league conducts its annual Hall of Fame induction ceremony in St. Louis on Friday, March 2, 2018.
The 21st MVC Hall of Fame class features two long-time administrators in Bill Rowe (Missouri State) and Lois Patton (Evansville); a women's softball Olympian in Dani Tyler of Drake; two former track/cross country standouts in Mary Ellen Hill-Schupbach (Bradley) and Christian Goy (Illinois State); and Southern Illinois' Darren Brooks, the only player in league history to win both the Larry Bird Trophy and men's basketball Defensive Player of the Year honor twice.
The league will conduct its annual Hall of Fame ceremony as part the State Farm Missouri Valley Conference Men's Basketball Championship next March 1-4. The March 2 festivities will begin with an 8:00 a.m. breakfast, followed by the induction ceremony at 8:30 a.m.
Tickets to the 2018 Hall of Fame event – scheduled to be held in the Peabody Opera House which is adjacent to Scottrade Center – can be obtained by calling the league office at (314) 444-4300. Tickets are available on a first-come, first-served basis.
"The Missouri Valley Conference has always been recognized for the great success of its athletics programs, with a rich history that dates back more than a century," said Commissioner Doug Elgin. "Our MVC Hall of Fame has provided us with an opportunity to honor the student-athletes, coaches, administrators and contributors who have played important roles in the Conference and in intercollegiate athletics.
"The individuals we will be honoring in the Class of 2018 are representative of the men and women who have preceded them in our Hall of Fame. They've brought significant honor to themselves, their institutions and to the Conference. We are truly humbled to have this opportunity to salute them for their achievements. In a year in which we are celebrating 25 years of women's athletics in the MVC, we're excited to announce our six-person class, which includes three women who positively impacted women's athletics at their institutions."
DARREN BROOKS, SOUTHERN ILLINOIS
A native of St. Louis, Mo., Brooks is the only player in Valley history to win both the Larry Bird Trophy, awarded to the league's top men's basketball student-athlete, and the league's Defensive Player of the Year honor two times, sweeping the awards in 2004 and 2005.
While he was at Southern Illinois (2001-05), the Salukis won four-straight regular-season conference titles, made four-straight NCAA Tournament appearances and won three NCAA Tournament games, including a Sweet 16 run in 2002 (defeating Texas Tech and Georgia as an 11 seed).
Brooks finished his career ranked fifth in all-time scoring at SIU with 1,761 points; he remains the school's career steals leader with 258, and he ranks fourth in career assists with 410, eighth in career 3-pointers made with 156 and 12th in career rebounds with 673.
He was a two-time AP Honorable Mention All-American (2004, 2005), a three-time member of MVC All-Defense team (2003-05) and a two-time member of MVC All-Tournament team (2004, 2005).
Brooks is a member of both the SIU All-Century Team, announced in 2013, and the Missouri Valley Conference All-Centennial Team, announced in 2007. He is a member, too, of the Saluki Hall of Fame.
He currently is an athletics director and K-12 teacher in the Dallas area where he lives with his wife Danielle and daughters Darionne, Nevaeh, Niah and Nadiah. In addition to his duties as athletics director, Brooks coaches the boys and girls basketball teams, and he also operates the Brooks Basketball Academy.