By Dave Broy
The excitement created by the Southern Illinois Miners baseball team has some people thinking of another team known as the 'Miners' that played more than 60 years ago.
The Orient Miners were a member of the Southern Illinois Semi-Pro League, and played for five years (1948-1952).  The Miners, who played their games in Orient and West Frankfort, were considered the best team in the region, winning five consecutive league championships.
During the 1930s, 40s and 50s, almost every area community had their own baseball team.  Baseball was one of the biggest forms of entertainment in each town.
According to team members such as the Miners' Dearl Samples, of West Frankfort, large crowds were very common.
"There wasn't much else to do in those days," said Samples.  "Not too many people had televisions so they would come out and support their local team."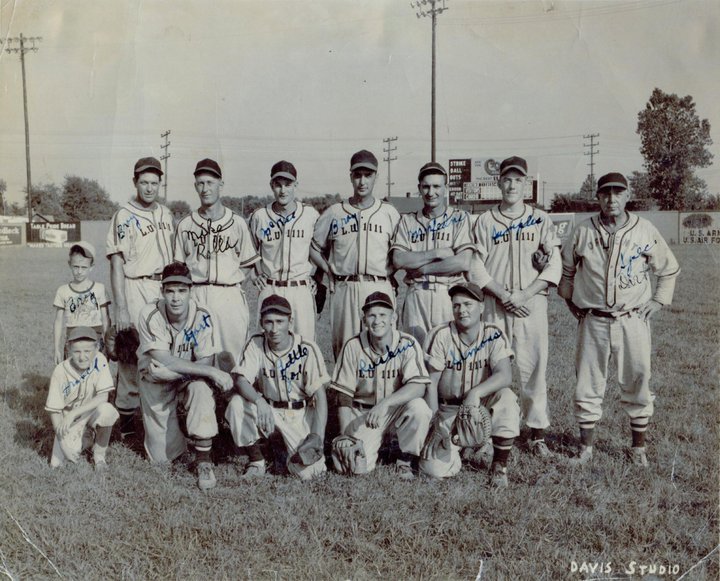 Many old-timers still remember the excellent brand of baseball played by the Miners.
"It was by far the best team I have ever played on and maybe close to the best ever come out of this area," said Samples.  "There was so much pure baseball talent.  We had several players who had played professionally in the minor leagues and after ending their careers, they came home to play in the semi-pro league.  Everyone on the Miners know how to play the game the right way and it was a tremendous learning experience for me."
Samples, who passed away in 2008, was the youngest player on the team.  As part of the deal for playing on the team, many of the Miners' players, including Samples, were hired by the C.W. & E. Coal Company to work in one of its mines.  This was also a common practice with many other teams throughout the area.
One Miners' player, Joe Castrale of Johnston City, didn't take up the job offer.  Castrale, who was attending college during most of his time with the Miners, graduated from Southern Illinois University-Carbondale and became a longtime educator in the area.  He spent 43 years in the profession, and spent the last 30 years as principal of Washington Middle School, in Johnston City.  The school's gymnasium is named in his honor.
"I played the outfield and infield," said Castrale.  "Samples played third but if he needed a break, I moved to third base.  He was a good ball player.  They were all good ball players."
The Miners had eight team members with professional baseball experience.  Four in particular had long and successful minor league careers.  Shortstop and second baseman Bill McKee, of West Frankfort, made it all the way to the AAA-level with the Pittsburgh Pirates.  Pitcher Mike Rolla, of Buckner, reached AAA with ball with the St. Louis Browns.  First baseman Dan Broy, Jr., from West Frankfort, advanced to AA in the St. Louis Cardinals' organization.
Shortstop Bob Garrison, from Benton, played for the Cleveland Indians, New York Giants and Boston Braves organizations, and reached the Class A level in an era where players started out in Class D ball.  Garrison played three seasons in the minor leagues before his baseball career was interrupted by World War II.
Garrison served as an Air Force pilot, flying P-51 Mustangs.  After the war ended, he played two more years in the minors.  When his professional baseball career ended he joined the Orient Miners for the 1949 and 1950 seasons.  During those two seasons he worked as a coal miner at Freeman No. 3 mine in Waltonville.
Garrison was called back into the military during the Korean War in 1951 and piloted T-33 jets.  During this time he decided to stay in the Air Force and ended up serving his country for 26 years.  In 1967, at the age of 45, he answered his country's call again as a pilot in Vietnam.
His best memories of playing for the Miners included a 20-inning marathon game in Orient in 1949 against Du Quoin and former major league pitcher Ewald Pyle.  According to the game story in the West Frankfort Daily American:  "Mike Rolla pitched all 20 innings for the Miners, allowing only five hits while striking out 24.  If that was enough, Rolla ended the game with a game-winning two-run home run for a 3-1 victory."
"Mike was not only a great pitcher, he was also a very good hitter," said Garrison.  "We lost only one or two games that entire season and one of those games was to a bunch of major leaguers who were barnstorming in this area."
Garrison also had fond memories of other teammates.
"I played next to Bill McKee for two years and he was a great guy," Garrison said.  "I was the shortstop and he played second base.  He was a very smooth infielder and a good all-around player.  The Broy boys (Dan Jr. and Charlie) were both very talented ball players.  Junior was a good power hitter and a nice tall target at first base.  Charlie was a fine center fielder and hitter."
Four other team members, Samples, Tony Levanti, Charles Broy and team manager Spec  Dartt, Sr. also played at least one season in the minor leagues.
The Miners not only dominated the Southern Illinois Semi-Pro league, they were also the team of choice to play against barnstorming major leaguers.
During this era, Major League Baseball salaries were not very high.   To supplement their incomes, many players formed teams that traveled throughout the country playing exhibition games during the off season.
The most memorable game the Miners played against of those teams was in 1951 at the  West Frankfort Cardinals' minor league stadium.  The Cardinals had a Class D Minor League affiliate in West Frankfort for two years and their stadium was located where the National Guard armory is today.
Many old-timers remember this game, as legendary Satchel Paige pitched the first three innings for the barnstorming professionals.
"I'm short, so what position did I bat in? Lead off," recalled Castrale.  "Satchel Paige was pitching, and what did I try to do?  I tried to bunt him  He came up to the plate and he says 'What are you trying to do man?  It was comical."
Castrale said that while his team didn't get any hits off of Paige in the three innings, the major leaguers didn't fare well against Rolla, who was tough on the mound.
"Mike was a fighter," said Castrale.
Paige's teammates included 20-game winner Ned Garver of the St. Louis Browns, as well as Earl Weaver, who would go on to become a Hall of Fame manager for the Baltimore Orioles.
The Miners held their own against Paige and his crew, losing 3-1.  Despite going hitless against Paige, the Miners managed to put together seven hits against Garver and Los Angeles Dodgers pitcher Mike Lemish over the last six innings.
McKee and Dan Broy Jr. led the way with two hits each for the local team.  Rolla held the major leaguers to only one earned run on five hits, striking out 12 in the nine-inning game.
"Mike Rolla was as good a pitcher as ever came out of Southern Illinois," said Samples.  "He threw over 90 miles per hour."
When asked about facing someone like Paige, Samples wasn't short on compliments.
"It is something I will never forget," Samples said.  "We didn't know how old he really was, but it didn't matter.  He blew us away for three innings."
Most of the Orient Miners team members have passed away, but those who remain as well as their fans and opponents still remember just how good this team really was.  So,  long before the current edition of the Southern Illinois Miners brought cheers and pride to the entire region another group of baseball Miners blazed a path of baseball excellence through Southern Illinois.
(This story was written by former West Frankfort sports standout Dave Broy and was first published in the Southern Illinois Miners season preview.  Our appreciation to Broy for sharing this treasured piece of Southern Illinois sports history.)