Phillip Ray Gower, 43, of Benton, IL, passed away at 5:30 p.m., on Sunday, September 3, 2023, at Deaconess Gateway Hospital in Newburg, Indiana.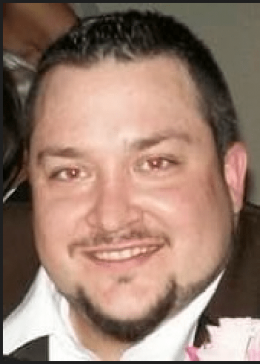 He was born on May 23, 1980, to William and Kathleen (Meehan) Gower in Benton, IL.
He enjoyed playing guitar, singing, songwriting, drawing, cooking, listening to music and spending time with his many friends, supporting the Chicago Bears.
Phillip made friends wherever he went and had many lifelong friends as well as new friends that he has grown close to in more recent years. He was a jokester and was known for always making people laugh. He was very passionate about music.
Phillip is survived by his mother, Kathleen Gower of Mt. Vernon, IL; son, Jaxon Gower of Benton, IL; daughter, Jaida Gower of Benton, IL; sister, Christine (Rick Hoxworth) Gower-Leathers of Mt Vernon, IL; brother-in-law, Brian Thomason of Washington, IL; three nieces, Sarah (Nelson) Tipsword of Sullivan, IL, Krysta Thomason of Chiang Mai, Thailand and McKenna Leathers of Mt Vernon, IL; nephew, Evan Leathers of Mt Vernon, IL; great-niece, Dahlia Tipsword of Sullivan, IL and five special friends, Jarrett Pruitt, Jared Allison, Nathan Reed, Ryan Schram and Robert Davis; .
He was preceded in death by his father, William Gower, sister, Michelle Rene Thomason, paternal grandparents, Earnest E. and Mary Lou Gower, maternal grandparents, Wallace and Harriet Meehan, great aunt, Doris Bean, uncle, John Meehan, aunt, Flo Meehan, best friends, Travis West and Dusty Duncan.
Arrangements have been entrusted to Pate Funeral Home, 301 S. Main St., Benton, IL.
Per Phillips wishes, cremation will take place.
A Celebration of Life will be held on Saturday, October 7, 2023, at 1:00 p.m., at the VFW/American Legion in Benton, IL.
Memorials may be made in Phillip's honor to the family in care of Christine Leathers, and will be accepted at the funeral home or mailed to Lighthouse Recovery Center, 1276 E. 250 N, Washington, IN 47501 in care of Ryan Parsons.
A Go Fund Me account has also been set up in Phillip's honor, named Phillip Gower's Legacy: A Family's Urgent Need.
Online condolences can be given at www.patefh.com.