Featured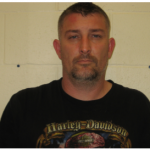 June 23, 2016
Franklin County authorities are seeking public assistance in locating Robert E. Hartley, a Benton man wanted and considered dangerous.
May 12, 2016
CAIRO — A class-action lawsuit was filed in federal court Tuesday on behalf of current and former Alexander County Housing Authority residents to remedy allegations of "rampant" discrimination based on race and family status and rent overcharges.
Featured News
July 26, 2016 By Site Admin Leave a Comment
It's often said that the greatest grief that any person can experience is the death of a child. On a hot and humid day last week I sat face-to-face with that grief.
Latest in Sports
CARTERVILLE – Three members of the John A. Logan College softball team have been recognized for their accomplishments this spring.
INA, Ill. – Four Rend Lake College Baseball players are being honored for a season well-done with nominations to the Great Rivers Athletic Conference (GRAC) All-Conference team and NJCAA (National Junior College Athletic Association) All-Region XXIV Defensive Team. Outfielder Nathan Williams (Kevil, Ky.), first baseman Ostin Clark (Camden, Ind.), and catcher Aiden McMahan (Wolf Lake) […]
May 12, 2016
CARBONDALE — All those long rebounds just got tougher to get past SIU's men's basketball team Sunday.
May 12, 2016
CARBONDALE — The SIU Coaches Caravan makes its second stop of a four-date tour of the region Tuesday night in Harrisburg.
Breaking News
May 12, 2016
In a major win for House Republicans, a federal judge ruled Thursday that the Obama administration inappropriately spent money to pay for part of the Affordable Care Act.
May 12, 2016
Rank-and-file budget negotiators have submitted a proposal to Gov. Bruce Rauner and the four legislative leaders to show how a balanced budget could be achieved through a combination of tax hikes and budget cuts.
May 12, 2016
An Illinois House committee has given preliminary approval to legislation to spend $700 million to help out financially strapped human services.
May 12, 2016
An attorney who's long been a close ally of Democratic House Speaker Michael Madigan has filed a lawsuit trying to block voters from considering a proposed constitutional amendment that seeks to remove some of the influence of partisan politics from how state House and Senate district boundaries are drawn.
March 3, 2016
CARBONDALE — Video gaming in Illinois has become a nearly half-billion-dollar industry, according to the latest reports from the Illinois Gaming Board.
March 3, 2016
Here's the link to the story.