Featured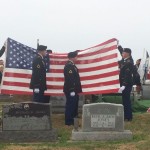 December 4, 2016
PINCKNEYVILLE —Kenneth "Gig" Shute said he and Vernon Douglas "Doug" Presswood were the best of friends, hanging out together and even working at the same job together. His friend was funny and very competitive and Shute recounted the one time he bested Presswood during a hunting expedition, only because Presswood forgot his rifle at home. […]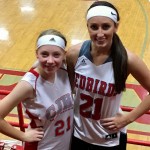 December 3, 2016
NOTE: This is a blog piece from Central Junior High Principal Charley Cass from his blog. It is a touching piece about FCHS basketball player Morgan Griffith, who is the all time leading Scorer at West Frankfort.   Please click on the link to read his piece.
Featured News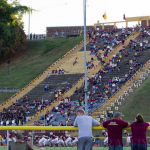 October 25, 2016 By Site Admin Leave a Comment
The Sesser-Valier-Waltonville-Woodlawn Devils will be a huge underdog when they travel to Mount Carmel on Saturday to take on the undefeated Golden Aces.
Latest in Sports

I am going to be home again this evening, so I am going to do the WMIX-WFRX shuffle tonight listening to both ball games.  After a two week layoff, the Christopher Bearcats are at home tonight against their arch rival the Woodlawn Cardinals.  The West Frankfort Redbirds will be at home against the Salem Wildcats….Bradley   Young is going to explode on someone and it is going to be tonight. The Bearcats have some unfinished from last year and they are going to win by three tonight. … Logic would go with the Wildcats tonight. I am going with my gut and my heart and going with the Redbirds by one. I expect Kyle Hammers to have a breakout game tonight at Max Morris Gym

HERRIN — Plan A for Benton guard Timmy Henson was taking the in-bounds pass and driving nearly the length of the floor for the game-winning shot. Herrin's defense never forced Plan B. Henson drove the length of the floor in 3.9 seconds to can the game-winning layup with 2.6 ticks on the clock as the […]
December 10, 2016
Thompsonville fell to Webber Township 76-39 last night. Woodlawn also wins. They come and visit the Christopher Bearcats tonight. All three games last night will have a bearing on the seeds at the Sesser-Valier Holiday Tournament….Click to read the piece from the Mount Vernon Register-News

December 9, 2016
Five out of the six teams in the county will be in action tonight, four will have conference games. The games will be previewed below. I have the county schools going 1-4 tonight. I might be the most hated man in the county right now after you read this. Around 10 P.M. I hope I am the biggest liar in the county. It does not get any better than HS basketball on a cold winter's night around Southern Illinois. Benton will be at Herrin; Harrisburg travels to West Frankfort; Chester is at Sesser-Valier; Z-R goes to Vienna; and Thompsonville goes to Webber Townshp
Breaking News
December 8, 2016
This story has been broken that Frank Cusumano of KSDK Channel five, St. Louis Dexter Fowler is coming to St. Louis for a physical tomorrow. Follow this breaking story that will be updated with the KSDK link.

December 8, 2016
There is a power outage on the very north part of town and in the country. Ameren has been notified. More info to come. If you need a place to be City Hall is open and a warming center. If you need assistance at home contact 7242424 hit 0. Emergency call 911.  Statement according to […]

December 8, 2016
His legend is otherworldly and now, at age 95, so is John Glenn. He, along with fellow aviators Orville and Wilbur Wright and moon- walker Neil Armstrong, truly made Ohio first in flight. "John Glenn is, and always will be, Ohio's ultimate hometown hero, and his passing today is an occasion for all of us […]

December 7, 2016
The proposed Continuing Resolution (CR) provides for healthcare coverage for the next four (4) months. However, there is no guarantee the proposed CR will be approved by Congress, and the proposed CR will not be voted on and decided until the end of this week. Therefore, the only way for Medicare recipients to have guaranteed […]

December 4, 2016
NATIONAL HARBOR, Md. • As the Cardinals intensify their pursuit of the next outfielder they hope can update the look of their future lineups, three outfielders who they've turned to for that in the past already have found new homes. On the eve of baseball's annual winter meetings, Matt Holliday agreed to a one-year, $13 […]

December 4, 2016
SESSER — An investigation underway in Sesser Saturday night, at one point, involved more than one unit of the Illinois State Police Homicide Squad. Witnesses tell us it happened on Locust Street, though city officials could not confirm that. Sesser Mayor Jason Ashmore could only say police officers needed assistance "checking something out" and that […]