Featured
March 17, 2015
Rep. Aaron Schock is resigning his seat in Congress, saying in a statement issued Tuesday that "constant questions over the last six weeks have proven a great distraction" and have made it "too difficult for me to serve the people of the 18th District." Here's the link to the story in the Chicago Tribune.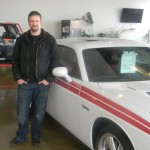 March 17, 2015
Staff Report Matt Witkewiz takes his job very seriously. Witkewiz, service manager at Weeks Chrysler Dodge Ram location in West Frankfort, said some dealerships believe when a customer drives off the lot the transaction is complete. But with Witkewiz (affectionately known as 'Wiz' to his fellow employees) he believes the car-buying experience is just getting […]
Featured News
March 20, 2015 By Site Admin Leave a Comment
By Walter V. Wendler Quality transfer students can bring positive characteristics to the university, not the least of which is a willingness to work.  Avril Thorne, Professor of Psychology at U.C. Santa Cruz made this observation: "If I could only choose one student next year, and randomly, it would be a transfer student. They are […]
Latest in Sports
How's your bracket going? Check here for latest March Madness updates.
PEORIA The Althoff Crusaders advanced to the championship game of the Illinois Class 3A State Basketball Tournament with a 82-74 semifinal win over Morgan Park of Chicago.

March 20, 2015
Salem Community High School's (SCHS) Ashley West, CENTER, signed her letter of intent earlier this week to play tennis next season at Rend Lake College in Ina.
March 20, 2015
INA, Ill. – Baseball athletes with the drive to improve their games can sign up now for the Rend Lake College Baseball Pre-Season Clinic, set for Sunday, April 12, at The Rec, formerly known as the Hitting Zone.
Breaking News
March 20, 2015
  Rend Lake – USAJOBs.gov is now accepting applications to fill summer positions at U.S. Army Corps of Engineers facilities. This hiring includes Rend Lake, Benton, IL. Rend Lake is one of the many locations that will be hiring students for summer employment through the Pathways program. These positions are open to current students enrolled […]
March 20, 2015
You may have heard that the Firearm Owners Identification Card process has changed and I am not exactly sure if it is for the better but none the less we have to deal with it. We have always filled out applications and taken pictures for people but now that process is a little more involved.
March 20, 2015
The Justice Department is investigating the congressional expenses and business dealings of Rep. Aaron Schock, and FBI agents have begun issuing subpoenas to potential witnesses, a person familiar with the case told The Associated Press on Friday.

March 17, 2015
Your phone rings. You look at the screen. It has a number you don't recognize, but the caller ID appears as "IRS." Your heart leaps into your throat. What could be wrong? You answer. The person on the phone tells you they're with the IRS, they may even give a badge number. They begin to […]
February 27, 2015
The 7th Annual Rock & Worship Roadshow, presented by Compassion International, will be coming to the SIU Arena on the campus of Southern Illinois University on Sunday March 1, 2015. Headlining the Roadshow are tour founders MercyMe who will be joined by Crowder, Matt Maher, Jamie Grace, Tedashii and Group 1 Crew. Being introduced on the tour are newcomer artists I Am They and Jon Guerra, while Shaun Groves is slated as the guest speaker.
February 27, 2015
Governor Rauner announced today he has made appointments to the Board of Trustees at Southern Illinois University, Eastern Illinois University and Chicago State University.