By BRUCE A. FASOL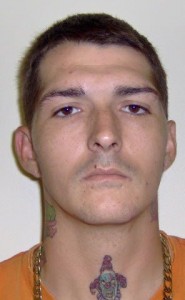 West Frankfort Police confirm that a man was arrested at 11:40 a.m. Saturday at an annual Christmas charity event. Police Chief Jeff Tharp said that an anonymous tip summoned officers to the annual West Frankfort Elks Club Christmas party for local children.
Taken into custody was convicted sexual predator Roger Walters Jr. According to witnesses, Walters was quietly removed from the gathering, and handcuffed away from the party and out of view of the children attending.
Tharp says that Walters will be charged with Violation of the Child Sex Offender Registry Act.  Among the provisions of the law is one that prohibits a registered sex offender from knowingly being present at a facility providing services exclusively directed at children under age 18. Tharp said officers spoke with Elks officials who said the party was advertised for and specifically catered to children.
Walters was taken to the Franklin County Jail.