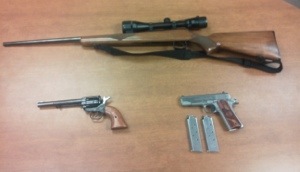 by BRUCE A. FASOL
West Frankfort Police Chief Jeff Tharp has announced an arrest in the recent burglary of a West Frankfort home. No date was identified when three guns were found missing from a home in the 100 block of West Sixth Street. Chief Tharp said the victim could not pinpoint when the guns were stolen.
The guns stolen were: a .22 long rifle, with a Bushnell scope, a Colt commander .45 caliber pistol, stainless steel and a 100th Anniversary edition, and also taken was a Heritage Roughrider .22 caliber pistol.
On Nov. 14, West Frankfort Police saw the investigation lead to Fairfield. A Fairfield resident told police there that he had purchased one of the firearms but did not know it was stolen. A similar story then emerged with a Thompsonville man saying he bought a gun, not knowing it was taken in a burglary.
West Frankfort Police developed a suspect in the case, and arrested 22-year-old Justin M. Murphy at a home on North Illinois Avenue in West Frankfort.
According to Chief Tharp, Murphy has admitted to investigators he entered the home of an acquaintance and took the weapons.
Murphy has been charged with residential burglary and the theft of the firearms.