By Steve Dunford 
WEST FRANKFORT – It was a tale of two nights for the West Frankfort Redbirds.  Last night they gave their arch rivals and SIRR Ohio foes the Benton Rangers all they wanted in a 49-45 loss.
Coach Todd Tripp's team fell to Benton two weeks from tonight 72-46 in the Goreville Invitational Tournament.  The Backcourt of Peyton Massey and Braden Webb were banged up during that contest.
Webb rolled an ankle in the tournament  Massey had a broken collar bone suffered in football.  He was a threat in the backfield for the Vienna-Goreville Eagles.
Tonight, the West Frankfort Redbirds did not have any answer for Webb as he tossed in a game high 31 points as the Blackcats defeated the Redbirds 78-61.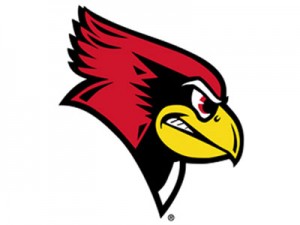 The Redbirds played their guts out on Friday night.  This is not a slam, but they looked like a team that was out of gas last night.  I told coach Toney Friday night, they had a Floorborn – U look from the SIU days.  They were diving after every loose ball.
On the other side, Todd Tripp's Goreville Blackcats looked like the team that could possibly end up in Peoria in Class 1A.  The Trio of Webb, Massey and Tanner Dunn have started since their freshman year.  They had an eleven day gap in their schedule.  They had a nice win over Z-R on December 5th.
In the opening seconds of the ball game the score was Webb 7 WF 0.  C.J Johnson Began to match Webb with putting on a scoring clinic of his own.  He finished with 25 on the night.  Goreville Raced out to a 21-13 lead.
Webb Continued on his tear and at the Blackcats led 43-29 at halftime.  Webb had 27 at this point.  The Redbirds were in deep foul trouble.  Coach KevinToney had to go with CJ Johnson and Kyle Hammers with three fouls in the first half.
West Frankfort starts the second half in a trapping zone.  It shut Webb down but the Redbirds did not have an answer for Peyton Massey.  He bombed three trifectas in a two minute stretch to put Goreville up by 25.  CJ Johnson hit a buzzer beating 18 footer to cut the lead at the end of three 70-49.
The Redbirds came out on fire in the fourth quarter and cut the Goreville lead till 14.  Coach Tripp calls a timeout and the Blackcats began to eat some clock with four minutes and some change on the clock.  Goreville scored on a couple of back door cuts to expand the lead.
Both coaches called off the dogs then and both teams began to sub freely.
Goreville improves to 5-2 on the season.  They will host the Cobden Appleknockers on Tuesday, in a final tuneup before the Sesser-Valier Holiday Tournament.
West Frankfort falls to 0-7.  This closes out their schedule until after Christmas.  Seeds for the Eldorado Holiday Tournament will come out on Wednesday.
Box Score
GOREVILLE (78)  Webb 11 6-6 31, Massey 5 2-2 16, Dunn 4 4-6 12, Tosh 1 5-8 7, Glidewell 1 1-2 4. Allbright 0 4-4 4. Geyman 1 0-0 2, Bishop 1 0 0-0 2.  Three point field Goals:  Webb 5, Massey 4, Glidewell
WEST FRANKFORT (61)  Johnson 10 2-5 25, Trash 4 0-1 10, Croslin 3 2-2 8, Wolfe 3 2-2 8, Hammers 3 2-2 8, B. Russell 1 0-0 2  Three point field goals:  Johnson 3, Thrash 2
Score By Quarters
GOREVILLE (5-2)    21 – 22 – 27 – 8 –   78
WEST FRANKFORT (0-7)    13 – 16 – 15 – 14 –   61