By Jim Muir
Christmas is traditionally a time for joyous celebrations, family gatherings and wide-eyed children who are enthusiastically anticipating the arrival of Santa Claus.
However, for many others the Yuletide season is a test of strength and endurance while trying to find a new-normal in dealing with the death of a loved one and a central figure in holiday celebrations.
The latter is the case for the Tom LeVault family as they attempt to come to terms with the loss of family matriarch Brenda LeVault, who passed away on October 18, 2019 from chronic respiratory failure and pneumonia. Only 72 years old when she passed, Brenda and Tom, who lives in rural Sesser, were married for 56 years and are the parents of four children, son Larry and daughters Tawana, Jackie and Lisa. The couple also has 11 grand-children and two great-grandchildren.
While Brenda is fondly remembered for many things, her big personality and even bigger love of all-things Christmas are near the top of the list.
A passage from her obituary, written by her family, shows the impact she had on her loved ones. It reads:
The world became a little quieter with her passing. Her sassy, fierce, no-holds barred approach meant she left this world in true 'Brenda Fashion' – her way and on her terms. You never had to question where you stood with her. She loved deeply and openly. She was everyone's biggest cheerleader. She never turned those in need away. Her door was always opened and you were always warmly welcomed. She was the only women we knew who could take a meal for a few, and turn it into a meal for plenty. Her children's friends became her kids. Brenda played many roles, but her favorite was just being Nanny to her grandchildren.
As late November rolled around on the calendar the LeVault family was faced with the decision about how to handle Christmas. One of Brenda's passions about her favorite holiday involved a huge 'Christmas Village' – a village that had taken on a life of its own throughout the years. What started for the family 20 years ago with three small pieces has now evolved into a three-level village that covers three walls of a large room and has more than 1,000 pieces and moving parts.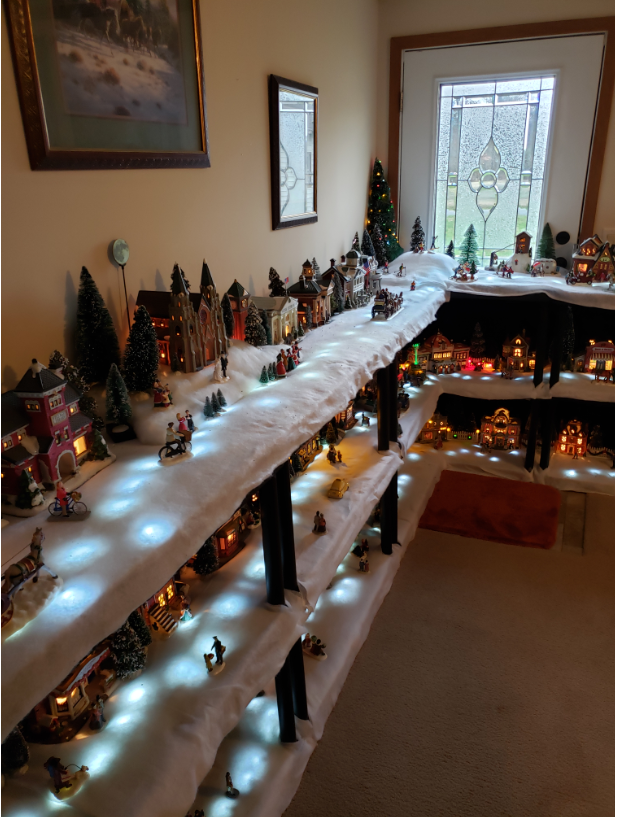 Following Brenda's death, Tom said he had no intention of tackling the annual project of putting the village out.
"My first reaction was that I was not going to put the village up this year, but when I mentioned that I got three good 'butt-chewings' (pointing at his three daughters) and it was sternly suggested that … 'yes we are putting the village up,'" said Tom, a retired coal miner and farmer.
Waving his arm around the room at the mammoth Christmas Village display, Tom added: "And you can see who won that discussion."
It's fitting that putting the village together each year is a family affair because many of the purchases of the many different items on display were also a family affair.
"We have all been shopping and we would see something for the village and call mom to see if she had this piece or that piece," said Tawana. "It's been a family affair since the beginning."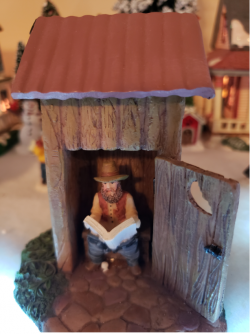 While all three daughters admitted that they are still trying to come to terms with the grief of losing a strong influence in their lives, they all agreed that the village had to go up this year.
Click on link to see video of LeVault Christmas Village.
"It's tough this year because Mom is not here to boss everybody around," said Tawana with a laugh. "But, it has been a help to me to see the Christmas village come to life again. I don't think any of us really wanted to do it … but we knew we had to do it."
Jackie said if she acted on her true feelings, she could easily "skip Christmas this year."
"I know that none of us wanted to put the village up this year, we really didn't have the heart to do it," said Jackie. "But, we also knew we had to do it. It's funny, but seeing the Christmas village back up again has helped me. And I know that my mom would be happy it's up."
Lisa said she shared the same feelings as her two sisters.
"It's one of those things in life that you don't want to do but you know you have to do," Lisa said. "It has helped me to try and get through December and Christmas, but it's not easy for me. I know my mom would be happy and I'm happy to help carry on a family tradition."
The meticulous detail of the village is nothing short of amazing, with a city section, a country section, a carnival, movie theater, churches from every denomination, museums, town hall buildings, people, animals and everything imaginable in between.
Tom pointed out Brenda's favorite piece, a deer nose to (carrot) nose with a snowman and his favorite, an 'outhouse' with the door swung open wide and a man reading a newspaper.
"Every piece has a story behind it and a memory," Tom said.
To guarantee that the village has the same look every year the LeVault family even put together a scrap book with pictures and details of where every piece is supposed to be. For example one picture might be marked Section A, Row 2 to show exactly where that piece goes while another is marked Section K, Row 3. The family estimated it would take one person working all day two weeks to assemble and put the entire village together.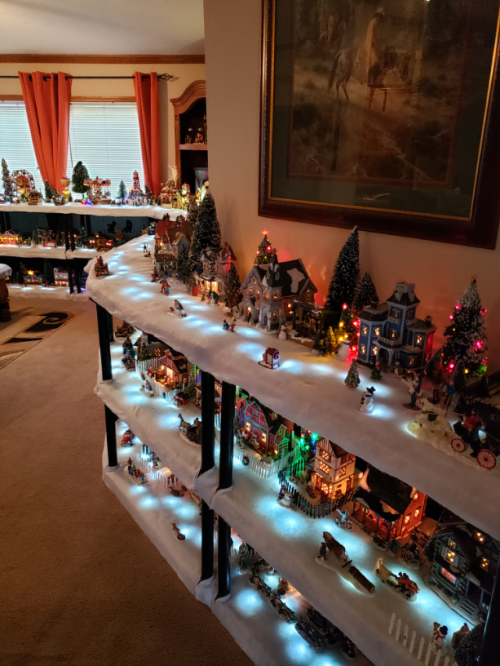 Pointing to a large couch near the recently-assembled village, Tom recalled better days.
"I can't tell you the hours that me and Brenda sat on that couch in the dark with just the lights of the village," he said. "It is just beautiful at night."
With the village completed for this year father and daughters are now tackling what was referred to as: Brenda's 9-foot Christmas tree.
"There's one place in the house where it will fit and Brenda had to have a 9-foot Christmas tree for that spot," Tom said. "That will be the next project, and that would make her happy."
While the village and the tree will be completed there is one area of Christmas where all three daughters and husband Tom agree that they can not meet Brenda's standards.
"She bought presents and then she bought more presents," said Tom. "She had one room here at the house that she would stack presents after they were wrapped and it would be full and head-high by Christmas. It was nothing for her to go through 100 rolls of wrapping paper."
Tom encouraged family and friends to bring their children to see the village on full display. Family members will be on hand Sunday, December 8, 2019 from 3 p.m. to 8 p.m. for anybody wanting to get an up-close look at the Christmas village. The address is 7292 Peach Orchard Road, located southeast of Sesser.
"Nothing would make Brenda happier than to know that people are enjoying something she loved so much," he said.
Tawana summed up the overall feeling for her family.
"We know she is in a better place and she is not struggling with her health," she said. "We all know that Christmas will never be the same without her but seeing the village come to life, it just touches your soul. We know she'd be happy with what we've done."