Robert R. "Bob" McDaniel, 85, of Ewing passed away Thursday afternoon, November 9, 2023 at SSM Health Good Samaritan in Mt. Vernon.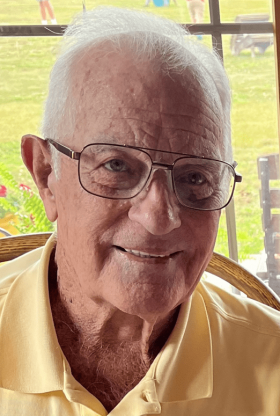 He was born in Jefferson County, IL on October 10, 1938 the son of Golie & Clara (Lisenby) McDaniel.
He married Pauline (Rowe) on October 14, 1978 and she survives.
Mr. McDaniel was a member of the Whittington Church. He always enjoyed building projects and going to sporting events of his family. He enjoyed golfing, working in the garden and yard work.
Mr. McDaniel is survived by his:
Wife: Pauline McDaniel of Ewing
2 Children:
Jeff McDaniel & wife Brenda of Mt. Vernon
Tracie Downey & husband Bob of Mt. Vernon
3 Step-Children:
Pam Minor & husband Mark of Ewing
Gary Cook & wife Doris of Benton
Kristi Picklesimer & husband Ward of Ewing
Grandchildren:
Michelle Hampton & husband Chad
Scott McDaniel
Rob Downey & wife Ashley
Brian Minor & wife April
Nathan Minor & wife Amy
Emily Skibo & husband Ryan
Erin McCommons & husband Casey
Elizabeth Roberts & husband Rex
Amy Cook
Amber Brayfield & husband Billy
Craig Cook & wife Emilee
Josh Picklesimer
Bryden Picklesimer
Jaron Picklesimer
25 Great-Grandchildren
Mr. McDaniel was preceded in death by his parents.
Funeral services will be held on Monday, November 13th at the Morton & Johnston Funeral Home in Benton with Rev. Mark Minor officiating. Burial will be in the Shiloh Cemetery in Whittington. Visitation will be from 11:00 A.M. to 1:00 P.M. on Monday at the funeral home.
In lieu of flowers, Memorials may be made to the Whittington Church.
For more information or to send online condolences please visit www.mortonjohnstonfuneralhome.com