Clarence Newton Benard, age 88, of Benton, went to be with his Lord and Savior at 3:50 p.m. Friday, November 3, 2023, at the Helia Healthcare of Benton.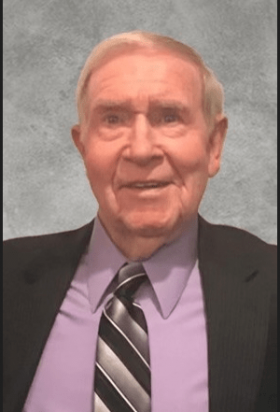 Funeral Services will be held at 1:00 p.m. Thursday, November 9, 2023, at the Leffler Funeral Home of Benton, with Pastor Alan Newman officiating. Burial with Military Honors provided by the Benton American Legion Post #280, Benton V.F.W. Post #2671, and the U.S. Army National Guard, will be in the Masonic & Odd Fellows Cemetery of Benton. Visitation will be from 11:00 a.m. to 1:00 p.m. on Thursday, at the Leffler Funeral Home of Benton.
On September 24, 1935, Clarence Newton Benard was born, the sixteenth child to David Henry Benard and Lillian Ethel (Sims) Benard. He would marry the former Barbara Ruth Beaty on April 2, 1961, and after 55 years and 11 months of marriage, Barbara preceded him in death on March 3, 2017.
Clarence was a retired schoolteacher. He taught Ag classes first with Ashley High School, followed by Thompsonville High School, Enfield High School, and closing out his teaching career as the Science and AG teacher at N.C.O.E. High School. He was also the FFA Sponsor at each of these schools.
Clarence was a member at Faith Missionary Baptist Church of Christopher, Illinois. He was always actively involved with the music at the church he was worshipping. He was the song leader/music minister at numerous churches throughout Southern Illinois. He and his late wife Barbara would also be in charge of the music ministry for many area Revival services. Clarence and the late Merle Fullerton started a radio program known as "The Baptist Voice" and could be heard weekly on WMIX.
He enjoyed gardening, singing, working puzzles, listening to Southern Gospel Music, traveling, and camping in his RV, and he and Barbara enjoyed spending winters in Florida. He was also proud to have been a farmer. Most of all, he enjoyed spending time with his family, especially his grandkids.
Clarence proudly served his country in the U.S. Army from October of 1958 to August of 1960, obtaining the rank of PFC. He would be transferred to the U.S. Army Corps Reserves fulfilling his Reserves obligation until October 1964.
He is survived by three daughters: Marla Harp and husband Richard of Benton, Aletha Jackson and husband Robert of Benton, Sonya Dorris and husband John of Paducah, KY; six grandchildren: Jared Harp and wife Jordan of Carterville, IL, Josh Harp and wife Casey of Mt. Vernon, IL, Nick Shelton and wife Alexia of Sylvester, GA, Zack Dorris and wife Brook of Glasgow, KY, Macy Jo McManus and husband Cameron of Murray, KY, Katlin Jackson of Benton, IL; two great-grandchildren: Teagan Nicole Harp and Tucker Allan Harp; and several nieces and nephews.
Mr. Benard was preceded in death by his parents, wife, an infant daughter Angela Faye Benard, a daughter Darla Kay Benard, and fifteen brothers and sisters.
The family prefers Memorials be made to the Faith Missionary Baptist Church of Christopher or to Glad Heart; and will be accepted at the services.
To leave online condolences to the family, or to share memories of Clarence, visit www.lpfuneralhome.com.