Marietta Waller, 88, of Thompsonville passed away Wednesday, November 1, 2023 at her home.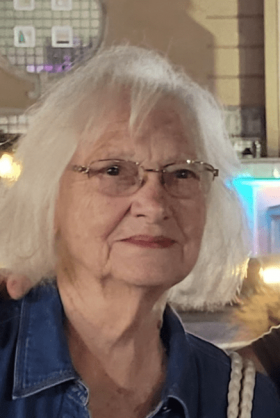 Marietta was born November 18, 1934 in Macedonia, IL.The daughter of John Carl & Lizzie Frances (Cutwright) Biddle.
She married Bobby Gean Waller on December 27, 1952. They enjoyed traveling all over the states in their camper.
She loved taking care of her family and dogs.
She is survived by her daughter, Linda Harris of Murphysboro, Her Grandson, Eric Gean Harris of Murphysboro. Her sister, Betty Davis of Benton.
She is preceded in death by her parents and husband.
Funeral services will be held at 1:00 P.M. on Sunday, November 5th at the Morton & Johnston Funeral Home in Benton. Burial will be in the Brady Cemetery in Akin.
Visitation will be from 11:00 A.M. to 1:00 P.M. on Sunday at the funeral home.
For more information or to send online condolences please visit www.mortonjohnstonfuneralhome.com