Bradley Scott Williams, age 17, of Benton, passed away Saturday, September 16, 2023, due to injuries sustained in a motor vehicle accident.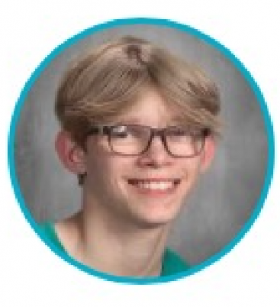 Funeral Services will be held at 11:00 a.m. Saturday, September 23, 2023, at the Immanuel Baptist Church, 516 North Main Street, Benton, Illinois 62812, with Dr. Kirk Kay and Rev. Ryan Casey officiating. Visitation will be from 4:00 p.m. to 8:00 p.m. Friday, and from 10:00 a.m. to 11:00 a.m. Saturday, at the Immanuel Baptist Church.
Leffler Funeral Home of Benton, is in charge of the arrangements.
Bradley was born on May 13, 2006, in Mt. Vernon, Illinois, the son of Kellis Paul Williams and Jamie Nichole (Smith) Gostowski.
Brad was a Junior at Benton Consolidated High School where he was on the wrestling team. He recently worked at West City McDonalds.
His family said that he had a "Heart of Gold", he was a free spirit and enjoyed doing his own thing. Brad also enjoyed being a prankster, hanging out with his friends, going to Sonic, sleeping in, and boxing in the basement.
He loved watching and attending WWE events, watching Cardinal Baseball, eating at Fujiyama's, and loved to watch over-and-over again his two favorite movies, The Sandlot and Home Alone. He was proud and loved driving his car.
His mother said he will be remembered as always being a vibrant, happy, and free person.
Surviving is his loving mother Jamie Gostowski of Benton, Illinois; his loving father Kellis Williams of Herrin, Illinois; his siblings: Reese Cornelison of Benton, Illinois, Hudson McCord of Herrin, Illinois, Chasen Cornelison, Benton, Illinois, Levi Williams of Centralia, Illinois; grandmother Georgia Lohman of Benton, Illinois; aunts and uncles: Beth Karnes and Brian Aaron of West Frankfort, Illinois, Brandon Smith of Benton, Illinois, Tiffanie Crabtree of O'Fallon, Illinois, Chasity Smith of Benton, Illinois, Zina Smith and Clay Richardson of Herrin, Illinois, Mike Williams of Akin, Illinois; great-uncle David Ezell of Benton, Illinois; several cousins including: Jersey Smith, Halle Smith, Hadley Richardson, Charli Smith, Atticus Richardson, Brooke and Clint Williams, Ashley Karnes, Jarrett and Lindy Cash, Skye Carlisle; numerous other extended family and his friends.
He was preceded in death by his paternal grandparents Charlie and Barb Williams; maternal grandpa Jack Lohman; uncles Scott Ezell and Chuck Karnes; a great-aunt Kathy Ezell.
Memorial contributions in memory of Brad may be made to either the Benton or Herrin Wrestling Programs, and will be accepted at the services.
To leave online condolences to the family, or to share memories of Brad, visit www.lpfuneralhome.com.
The family has requested that everyone wear bright colored clothing to Bradley's services, he wouldn't want everyone dressed up and dark.