By Jim Muir
Beaming smiles, off-the-charts excitement, a few tears of joy and a heaping-helping of love were proudly on display Friday night when Immanuel Baptist Church, in Benton, hosted the annual "Night to Shine" event.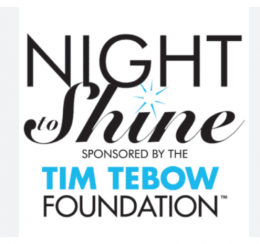 In 2014, the Tim Tebow Foundation launched "Night to Shine" – a complimentary event for people with special needs hosted by local churches around the world. The vision was simple…the foundation would work with churches around the country to provide an unforgettable prom night experience, centered on God's love for people with special needs, ages 14 and older. The Night to Shine event at Immanuel on Friday night was one of more than 500 such events held around the world on February 10.
Ryan Mulvaney, who serves as youth pastor at Immanuel said the intricate planning and ironing out of every single detail for the well-organized annual event has gone on for weeks and included more than 200 special needs individuals and an additional 150 volunteers. From the smiles of all attending, it was virtually impossible to determine who was enjoying the event more – those with special needs or the caring volunteers who were there with a singular purpose — to make the night perfect.
The event is designed so that participants are given a warm welcome when they arrive, and then they are ushered to several stations set up throughout the church where they can receive a shoeshine, boutonnières and corsages, makeup and lip gloss and even get their hair fixed if they want. Once they are all "spruced-up" and "spiffed-up" each special participant is escorted to the south side of the large Immanuel Church complex where waiting limousines drive them around the church to the north side of the building where a red carpet entrance awaits.
At the entrance to the red carpet, participants walk through a large floor-to-ceiling star and are then introduced individually to a large crowd of volunteers who are lining the walkway ready to cheer-on, high-five and fist-bump the guests of honor as they make their special entrance.
From there a meal (or snacks) is provided, followed by karaoke and then the main event, a dance where each participant is given a crown or a tiara. In a single sentence, Night to Shine is a celebration of God's love where everybody truly is a King or Queen!
Following is a pictorial start-to-finish of the remarkable night of activity at Immanuel Baptist Church.