Trace Bittle, age 18, of Marion, Illinois passed away on Sunday, November 20th surrounded by an outpouring of love, hope and prayer from his cherished family and friends.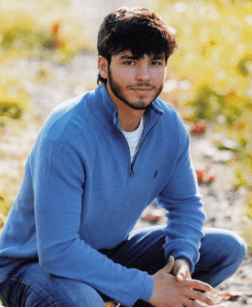 Trace was a beautiful boy, inside and out. He loved life and lived life to the fullest. Trace loved and adored his family with all his heart. He brought joy to all of us with his quick smile, his kind heart, and infectious personality. He could warm your heart like no other.
He was cherished by his parents, devoted tirelessly to his life and happiness. He was adored by his grandparents who played such a big role in his life. He shared a special bond with his sister Jerzy, only 16 months apart. He was so proud of her accomplishments and she treasured him in every way. Trace had the gift of a family who loved him so much and would give him the world. He would always say "I love you more" and give us the best hug ever.
Trace was a Marion High School athlete where he played baseball and golf and graduated with the class of 2022. His true love was being outdoors. Trace was an avid hunter and fisherman with a passion for the thrill of the hunt – whether it be chasing a little green lizard to hunting a 10-point buck. He loved the Hunting Lodge. That was his happy place – shared by family and friends, his Heaven on earth.
Trace liked the best of the best. You could always find him in the "Gucci of camo." Nobody could light up a room like Trace Bittle. Words cannot describe the effect Trace had on people.
Trace was a member of the Grange Hall Church. The days were brighter when Trace was around. His light will burn forever.
He is survived by his parents, Barry P. and Melissa A. Bittle of Marion, IL; three siblings, Dymin (Lance) Lynn, Jerzy Bittle, and Kruz Hayes all of Marion, IL; his Paternal Grandmother, Connie Dodson, Maternal Grandparents Danny (Sherry) Johnson, aunt Shelley (Scott) Bittle-Schonewolf of Marion, IL, uncle JoJo Johnson of Benton, IL, uncle Robbie Dodson of San Francisco, CA.; niece Mia Lynn, niece Lively Lynn, niece Rumer Lynn, and nephew Judge Lynn. He is preceded in death by his Paternal Grandfather, Larry Bittle.
Visitation will be Saturday, November 26th, 2022 from 10:00 AM – 1:00 PM at Grange Hall Freewill Baptist Church. Funeral services will be held Saturday, November 26, 2022, 1:00 PM at Grange Hall Freewill Baptist Church with Rev. Kevin McNeely officiating. Mitchell-Hughes Funeral Home is assisting the family with arrangements.
Memorial contributions may be directed to the Marion High School Bass Fishing Team.