Gary Wayne Kirkpatrick, age 68, of Bartlett, IL, passed away on Saturday, September 17, 2022.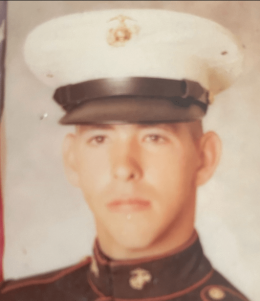 Private graveside services, with full military honors by the Benton American Legion Post #280, V.F.W. Post #2671, and the United States Marines Corps, will be held at 11:00 a.m. Saturday, October 1, 2022, at Masonic and Odd Fellows Cemetery of Benton, with Rev. Howard Johnson officiating.
Local services are under the direction of the Leffler Funeral Home of Benton.
Gary graduated from Morton East High School in Cicero, IL, Class of 1972. He then joined the United States Marine Corp that Fall, proudly serving his country for two years before being honorably discharged in 1974. He earned the Expert Rifle Badge, Good Conduct Medal, and National Defense Service Medal.
Gary worked as a transportation coordinator. He was very outgoing and was always ready to help others. He loved holidays with his extended family, especially Halloween and Christmas. He loved to party and was always the first to fight and the last to leave!
Gary was preceded in death by his parents. He is survived by his children, Gary Wayne Kirkpatrick Jr. and Rhonda Marie Kirkpatrick; siblings, Sandra (Jim) Holz and Michael (Connie) Kirkpatrick; nephews, Adam (Alicia) Smith and Michael (Nicole) Smith; great-nephews, Austin Smith and Cameron Smith; and numerous cousins.
He was preceded in death by his parents.
To leave online condolences to the family, or to share memories of Gary; go to www.lpfuneralhome.com