Brenda Kay Eubanks, age 73, of Benton, passed away at 7:26 a.m., Thursday, September 15, 2022, at her home.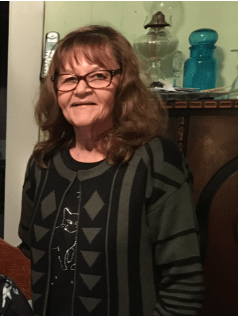 Funeral services will be held at 2:00 p.m. Monday, September 19, 2022, at the Leffler Funeral Home of Benton, with Rev. Eddie Paul Davis officiating. Burial will follow in the Masonic & Odd Fellows Cemetery of Benton. Visitation will be from 12:00 noon to 2:00 p.m. Monday, September 19, 2022, at the Leffler Funeral Home of Benton.
Brenda was born on May 12, 1949, in Christopher, Illinois; the daughter of Harold "Lefty" Learned and Rachel Fern (Williams) Learned. She married Larry Eubanks on May 16, 1969, and he survives.
She formerly worked at the Franklin Hospital, Benton Chamber of Commerce, Personal Finance, and F.W. Woolworths; all of Benton.
Brenda was a member of the Immanuel Baptist Church of Benton.
She enjoyed flower and plant gardening, skating, involvement with the Junior Women's Club, and spending time with her family.
Her son Dewayne said, "that she was an incredible cook, and enjoyed cooking for her family, especially during the holidays". He said that one of his fond memories of his mother was her love and enjoyment of decorating and making the holidays memorable and beautiful. Dewayne said, "she loved Christmas".
Surviving is her loving husband of 53 years, Larry Eubanks of Benton; a son Bruce Dewayne Eubanks and husband Anthony of Napa, California; two sisters: Barbara Dixon and husband Melvin of Benton, Melissa Learned of Benton; a brother-in-law Wendell Eubanks and wife Mary of Benton; seven nieces: Amanda Miller and husband Troy of Benton, Sarah Stowers and husband Derek of Benton, Erin Holley and husband David of Las Vegas, Nevada, Alecia Morris of Harrisburg, Illinois, Kristen Tomshack and husband TJ of Benton, Debbie Clay and family of Benton, Cindy Buntin and husband Sam and family of Benton; a nephew Curtis Eubanks of Florida; several great-nieces and nephews that she considered her grandkids: Matthew and Bella Miller, Logan, Lenox, and Lance Stowers, Reese, Reagan, and Remington Holley, Jordyn and Shelbie Learned, Paisley Morris, Madison, Hailey, and Michael Tomshack.
She was preceded in death by her parents; two brothers: Harold Learned, Jr, Tom "TJ" Learned; a brother-in-law Donald Eubanks and wife Linda; three nephews: Brian Eubanks, Ron Eubanks, and Doug Eubanks.
Memorial contributions in memory of Brenda, may be made to the Immanuel Baptist Church, and will be accepted at the Leffler Funeral Home.
To leave online condolences to the family, or to share memories of Brenda, visit www.lpfuneralhome.com
To send flowers to the family, please visit our floral store.