Willard Farrell Bradley Sr., 80, of Sesser, passed away on Saturday September 10, 2022 at SSM Good Samaritan Hospital in Mt Vernon.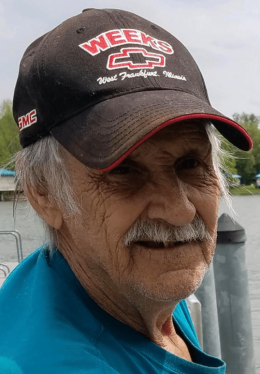 He was born on September 21, 1941 in Winchester, IL to Ellis and Velma Bradley.
He was preceded in death by his parents, and three brothers Lloyd, Carlos and James and his only sister Brenda.
He is survived by his close friend Sue Ehrlich, his children Willard Farrell "Brad" (Cathy) Bradley Jr. and Melinda (Alan) Montgomery; 11 grandchildren; 13 great grandchildren and one brother Gale Bradley and several nieces and nephews.
Farrell was a retired truck driver, past chief of the Sesser Fire Protection District and a former auxiliary police officer for the City of Sesser, he was also a coal miner and had worked for American Motor Corporation. He enjoyed fishing, boating and camping. He loved animals, especially cats. He also enjoyed spending time with his grandchildren.
Funeral services will be held on Sunday September 18, 2022 at 2:00 PM at the Brayfield-Gilbert Funeral Home in Sesser. Visitation will be on Sunday from 12:00 Pm until the time of the service at 2:00 PM. Burial will be at Williams Chapel Cemetery in Ewing.
For more information go to our website www.gilbertfuneralhomes.com