Benjamin "Ben" Lee Williams, 39, of Benton, IL, passed away on Thursday, August 25, 2022, at his residence in Benton.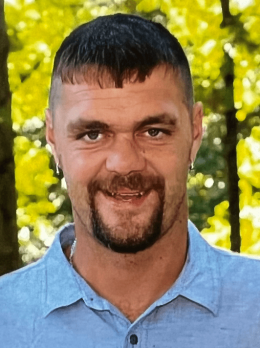 Ben was born on January 23, 1983, to Teddy and Sarah (Biddle) Williams in Herrin, IL. He was proud to work as a driller in the oil field. Ben married Kerry Kluzek on August 24, 2013.
Ben was an outdoorsman and enjoyed camping, traveling, and riding anything with a motor. There wasn't an adventure Ben wasn't willing to take. He hoped to retire on a sailboat. Fishing was more than a passion; it was a constant in his life. Ben was valued as a father before anything else by his four children. His carefree, upbeat attitude was apparent to everyone he met; Ben had no enemies. He made everyone into a "good" buddy. His favorite place to be was bellied up to a beach bar in the Florida Keys; shirtless with a beer in his yeti koozie. Ben"jammin" loved to have a good time.
Ben is survived by his Mother, Sarah Williams; Wife, Kerry Williams, mother to Sons, Gavin Williams, Fischer Williams; Mary Sloan, mother to Son, Brandon Williams and Daughter, Abigail Williams; Brother, Jesse (Kelli) Williams; Nephew, Jesse Williams; Nieces, Maggie "Mag Pie" Williams, Lucy Williams; Brother, Adam (Rebecca) Williams; Cousin, Kadie (Brady) Helmkamp; Uncles, L.W. (Michelle) Biddle, Tim (Sheila) Huffine, Willie (Mary) Huffine; Maternal Grandmother, Lena Sanders; Father and Mother-in-law, Paul & Dorothy "Dot" Kluzek; Many Cousins and Friends.
He was preceded in death by Father, Teddy Eugene Williams; Uncle, Kevin Biddle; Maternal Grandfather, Lester Biddle; Paternal Grandfather, Ronald Huffine; Paternal Grandmother, Florence Huffine; Best Friend, Brandon Tindall.
Funeral arrangements have been entrusted to Pate Funeral Home, 301 South Main Street, Benton, IL.
Visitation will be held Thursday, September 1, 2022, 4:00 p.m. to 8:00 p.m., at Pate Funeral Home, Benton, IL.
Funeral services will be held on Friday, September 2, 2022, 10:30 a.m., at Pate Funeral Home, Benton, IL.
Memorials may be made to the Williams Family to help support his children's future and education.
Online condolences can be given at www.patefh.com