Margot Juliana McAfoos was born January 12, 1924 in Berlin, Germany to Katarina (Vinogradoff) and Heinrich Weil. She was raised in Worms, Germany by her mother and grandparents. Margot was educated in language studies, primarily English and French. During World War II, she served her country by working as an interpreter at "listening posts." After the war she worked for the US 7th Army Occupational Forces in Heidelberg, Germany as an interpreter.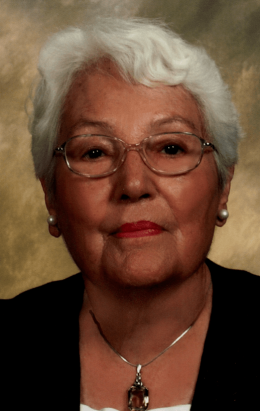 In Heidelberg she met and fell in love with Captain John McAfoos. He returned home in 1947 to join his father FB McAfoos in business and later that year he asked Margot to marry him. Margot followed her heart and they were married in the First United Methodist Church of Benton in 1948. She has been an active member ever since.
Margot was a volunteer girl scout leader and chaired a fundraising effort for the American Cancer Society in Franklin County. She shared her culture and heritage by teaching Community Education classes for SIU. Margot organized and led Presley Tours of Europe for high school students for a number of years. Later she was recruited by The Shagbark Girl Scout Council to become a professional trainer. This led to a three year opportunity to work as a trainer for the North Atlantic Girl Scout Council in Nuremberg, Germany.
Throughout her life Margot enjoyed traveling the world. She loved learning and experiencing new cultures and ideas.
Family was always important to Margot. She is survived by her daughter, Katherine and Thomas Tosa of Muskegon MI. and her sons, John Frederick (Fred) and Ronda McAfoos of Thornton, CN. and Thomas and Robin McAfoos of Thompsonville, Il. Her grandchildren include Christopher and Kristine Tosa, of Ludington MI, Julianne and Christoph Hennefeld, of Walldorf, Germany, Michael Tosa of Busselton, Australia, Douglas and Rebecca Tosa of Marquette, MI, Allison McAfoos of Harrison, Ar. and Jessie and Alec Fedyniak of Sierra Madre, CA Margot also has three great-grandchildren, Katharina and Christina Hennefeld of Walldorf, Germany and John Riley Tosa of Bussleton, Australia.
She was preceded in death by her parents and her husband John M McAfoos.
Funeral arrangements have been entrusted to Pate Funeral Home, 301 S. Main St., Benton, IL.
Visitation will be from 11:00 a.m. to 1:00 p.m., on Friday, August 19, 2022 at Pate Funeral Home.
Graveside services will be held on Friday, August 19, 2022 at 1:15 p.m., at the Masonic & Oddfellows Cemetery, with Rev. Jesse Hinds officiating services.
A celebration of life for Margot will to follow in the fall of 2022.
In lieu of flowers consider a gift to the Girl Scouts of Southern Il or First United Methodist Church in Benton Il.
Girl Scouts of Southern Il, Attn: Fund Development, 4 Ginger Creek Parkway, Glen Carbon, IL 62034
First United Methodist Church 203 W. Church St Benton Il 62812
Condolences may be expressed online at www.patefh.com