Ruth Hale, 103, of Benton and a former Bonnie resident "Went Home to be with her Lord" from Heritage Woods in Benton, on Friday morning, August 5, 2022.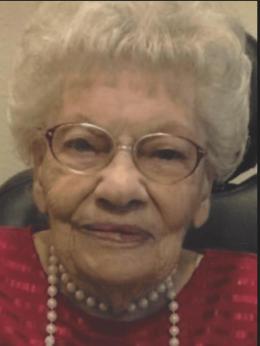 She was born in Covert, Michigan on July 16, 1919, the daughter of Eldon Bryan Phillips and Lena (Howell) Bryan.
She married Pastor Bertram Hale in Bonnie on November 15, 1948.
Mrs. Hale was a longtime member of the Bonnie Church of God. She was a faithful, loving wife and mother, and served her Lord faithfully.
Mrs. Hale is survived by her children:
Teresa Bolen of Benton, IL, Leland Hale and wife Maryann of Galatia and Sondra Hosmon and husband Stacy of Benton.
Daughter-in-law: Patti Hale of Bonnie
Grandchildren: Thomas "David" Bolen and wife Karen, Tonya Shurtz and husband Rod, Amanda Bolen, Bobby Hale and wife Amy, Crystal Frei and husband Robert, Paul Michael Hale, Cassie Brooks, Ian Cocke, Dustin Cocke and wife Cassie, Lindsey Yordy and husband Jake, Tony Hale and Kaycee Hale.
Great-Grandchildren: Chris Orta and wife Lexi, Jennifer Orta, Seiger Shurtz and wife Leah, Sayler Shurtz, Macy Shurtz Riley and husband Zack, Mason Bolen, Landon Bolen, Eliza Bolen, Bobby Hale, Steven Hale, Kimberlynn Hale, Mercedez Hale, Madilyn Hale, Gabriel Brooks, Jacelyn Brooks, Dailin, Cayson, Ava, Miles and Jack.
Great-Great-Grandchildren: Brittyn, Elam, Emilia and Carly.
Mrs. Hale was preceded in death by her parents, husband, a son-Eddie Hale, great-granddaughter- Makenna, and by two sisters- Pauline Hopper and Claudia Thomas Wayman.
Funeral services will be held at 4:00 P.M. Tuesday August 9th at the Bonnie Church of God with Pastor Micah Arcuri officiating. Burial will be in Mt. Vernon Memorial Gardens. Visitation will be after 2:00 P.M. on Tuesday at the Bonnie Church of God.
For more information or to send online condolences please visit www.johnstonfuneralhome.com