Bradley Gene Mandrell was born on August 13, 1950, in Pekin, IL to Gene and Eddyth Mandrell. He moved to Benton, IL as a child, where he began a lifelong love of baseball, cooking, hunting, fishing, and the outdoors. He graduated from Benton High School in 1969. He married the love of his life, Becky Browning, in 1970.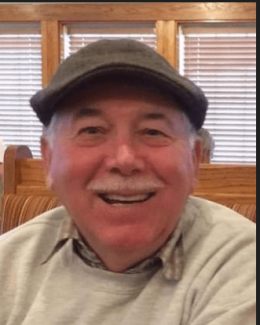 They celebrated 52 wonderful years together and welcomed 4 children into this world. Brad was a shining example of what a husband, father, grandfather, son, brother, and Christian should be. He loved spending time with his wife, kids, and grandkids. Brad and Becky enjoyed taking rides out to Rend Lake to view the sunsets and trips to see their children and grandchildren.
Brad was a huge fan of the St. Louis Cardinals and Blues. He enjoyed watching shows about wildlife, hunting, and history. He loved to learn about how things were made and the wonders of the Earth. You could almost always find him in his barn working on projects for the church, his kids, other people, and sometimes his wife. He had a biting sense of humor and was always smiling and pleasant.
Brad was a master carpenter, and you can see his special skills in everything he made. He followed God faithfully all his life and served as a deacon, Sunday school teacher, youth group leader, and property chair at the First Christian Church in Benton, IL. He was an integral part of the planning and execution of the building of the FCC Fellowship Center.
He was preceded in death by his father Gene. He is survived by his wife (Becky), mother (Eddyth), children Angela (Donald) Jones, Jeff Mandrell, Lee (Kristy) Mandrell, Lana (Bobby) Ventura, grandchildren Brittney Jones (Mark Hornbaker), Haley (Jonathon) Moore, Abi Mandrell, Noah Mandrell, Charley Mandrell, Alex Ventura, Logan Ventura, Ty Ventura, great grandsons Rory Jones, Levi Moore, sister Pam Robinson and many nieces, nephews, aunts, uncles, and cousins.
Visitation will be from 10:00 A.M. to 12:00 P.M. on Saturday August 6, 2022 at the First Christian Church in Benton. A Celebration of Life will be held at 12:00 P.M. on Saturday with Pastor Kurt Sanders officiating.
In lieu of flowers donations can be made to the First Christian Church Fellowship Center fund, 302 South Main, Benton, IL 62812.
For more information or to send online condolences please visit www.mortonjohnstonfuneralhome.com