David Lee Rogers, Sr., 92, of Benton, passed away at 2:35 a.m., on Saturday, July 16, 2022, at Stonebridge Nursing and Rehab in Benton.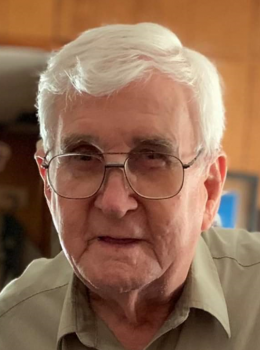 He was born on February 21, 1930, to Herschel and Gertrude (Bone) Rogers at Jasonville, IN. David retired from Conrail Railroad where he worked as a Railroad Conductor. On November 11, 1972, he married Yvonne Shires, and she survives.
He was a loving husband, father and grandfather. He was a member of the West City First Baptist Church and the United Transportation Unit Union.
David is survived by his loving wife of 49 years, Yvonne, three daughters, Janice (Bob) Simpkins, Carol (Bob) Largent and Christina (Harvey) Kendall; three sons, David Rogers, Jr., Adam Daniel Rogers and Jeffery (Diane) Rogers; one brother, Roy Rogers and many grandchildren and great-grandchildren.
He was preceded in death by his parents, Herschel and Gertrude Rogers, his son, Robert Rogers, two sisters, Mary Arndt, Sister and Lorraine Quebedeau and five brother, Bill Rogers, Charles Rogers, Orvil Rogers, Chuck Rogers and Wayne Rogers; and one daughter-in-law, Judy Rogers.
Services have been entrusted to Pate Funeral Home, 301 S. Main St., Benton, IL.
Visitation will be held on Saturday, July 23, 2022, from 5:00 p.m. to 7:00 p.m. at Pate Funeral Home, Benton.
Memorials services will be held on Saturday, July 23, 2022, at 7:00 pm at the Pate Funeral Home, Benton.
Per David's wishes, cremation will take place.
Online condolences can be given at www.patefh.com.