Morgan Phelps Stubblefield, 25, of Sesser, passed away on Wednesday June 22, 2022 at her home.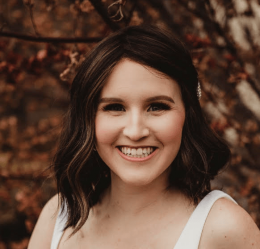 She was born on January 17, 1997 in DuQuoin, IL to Tony and Maria (Wright) Phelps.
She married Brandon Stubblefield on December 31, 2021 and he survives of Sesser. She is also survived by her parents Tony and Maris Phelps of Valier; one brother Michael (Grace) Phelps of Sesser; two nieces Rey Madelyn Phelps and Noa Phelps; father-in-law and mother-in-law Scott and Sheila Stubblefield of Royalton; two brother-in-laws Matt (Stephanie) Stubblefield and their children Ashlyn, Gunner, and Kynsleigh and Kyle (Hannah) Stubblefield and their child Parker; grandparents Phil and Kathy Phelps, Jane Wright, Ron Diuguid, and Richard (Susan) Stubblefield.
She was loved by her many close friends and she loved her doggos Millie and Leo. She was preceded in death by her grandparents Larry Wright and Sharon Diuguid.
Funeral services for Morgan will be on Sunday June 26, 2022 at 1:00 PM at the Brayfield-Gilbert Funeral Home in Sesser, IL with Rev. Kirk Packer officiating. Visitation will be on Sunday from 10:00 AM until the time of the service at 1:00 PM at the funeral home. Burial will be at Maple Hill Cemetery in Sesser. In lieu of flowers donations can be made to Hospice of Southern Illinois or to Chemo Buddies, envelopes will be available at the funeral home.
For more information go to our website www.gilbertfuneralhomes.com