Jennetta Fay Gouge, 79, of Valier, passed away on May 18, 2022 at Memorial Hospital of Carbondale.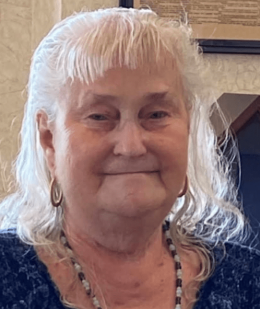 She was born on July 14, 1942 in Hurst, IL to Damon and Beatrice (Cooper) Harrison. She married Robert Gouge on October 25, 1961 and he survives of Valier.
She is survived by her husband Robert Gouge of Valier; her children Michael (Janice) Gouge of Greenville, IL, Robin (Vince) Akin of Akin, IL and Joseph Gouge of Buckner; son-in-law Tim Robinson of New Minden, IL; grandchildren Jacob, Sarah, Holly, Katie and Christina; two sisters Lynetta Watkins and Karen Feltmeyer.
She was preceded in death by her parents, one daughter Stella Robinson and two sisters Sandy Valco and Libby Fenton.
Jennetta loved her family very much and was a member of the Christ's View Christian Church in Christopher, where she taught Sunday school. She also volunteered at Shawnee Christian Nursing Home in Herrin.
Funeral services will be on Monday May 23, 2022 at 11:00 AM at the Christ's View Christian Church in Christopher with Pastor Ron Henwood officiating. Visitation will be on Monday from 9:00 AM until the time of the service at 11:00 AM at the church. Burial will be at Blairsville Cemetery in Blairsville.
For more information go to our website www.gilbertfuneralhomes.com