Joe Herbert, 82, of West Frankfort passed away Sunday, May 8, 2022 at the Herrin Hospital.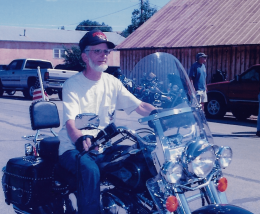 He was born in Benton, IL on November 27, 1939, the son of Joe and Evelyn (McDonald) Herbert.
He married Carolynn (Blessin) on September 16, 1963.
Mr. Herbert was Owner/Operator of Joe's Auto Salvage & Towing Service since 1969. He was an avid motorcycle event enthusiast, making multiple trips to Sturgis. He raced stock cars in the late 1950's and early 1960's, and was a big NASCAR fan. He enjoyed going out to various lakes on his houseboat, and was an avid Bass fisherman. He dearly loved his grandbabies.
Mr. Herbert is survived by his:
Wife: Carolynn Herbert of West Frankfort
Daughter: Denise Herbert of West Frankfort
Son: Scott Herbert of West Frankfort
3 Grandchildren: Marissa Stone & husband Timmy of West Frankfort
Matthew Sloan of West Frankfort
Isabelle Cook of West Frankfort
Great-Grandson: Waylon Stone
Sister: Judy Doxsie of Benton
Mr. Herbert was preceded in death by his Parents, by a Sister-Jean Furlow, by a Great-Grandson-Weston, and by former son-in-law-Rodney Sloan.
Funeral services will be held at 1:00 P.M. SATURDAY, May 14th at the Morton & Johnston Funeral Home in Benton. Burial will be in the Masonic & Odd Fellows Cemetery in Benton. Visitation will be after 11:00 A.M. on Saturday at the funeral home.
For more information or to send online condolences please visit www.mortonjohnstonfuneralhome.com