Odin Hensley, passed away on April 28, 2022.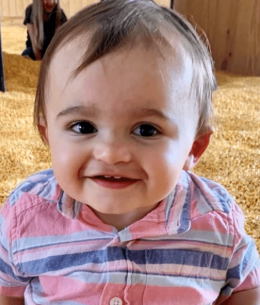 He was born on September 17, 2020 in Mt Vernon, IL to Dakota Hensley and Serena (Abbott) Hensley.
He is survived by his mother Serena (Anthony) Corey of Zeigler; father Dakota (Porscha Brown) Hensley of Bluford; one brother Jiraiya Hensley and one brother on the way Easton Corey; grandparents Bonnie Clark McNeal of Christopher, James Abbott of Logan, Chris Davis of Bluford and Jill Davis of Bluford; great grandparents Robert and Bonnie Mace of Sesser, James Abbott Sr. of Logan, Laura and Victor Merfeld of Leiland, IL and Kelly Coleman of Valier; aunts RyAnn Clark, Railan Clark, Vivian Carlton, Adalyn Heiman and Mara Hensley and great aunts and uncles and several cousins.
He was preceded in death by his great grandparents Donald McNeal, Kathy Hayes and Sandy Coleman, one great aunt Diana Gunn and one great uncle Donald McNeal Jr.
Odin was a happy baby and loved Spiderman, he also loved music and liked to dance, he loved to swing and to throw basketballs and he liked to eat snacks.
Funeral services for Odin will be on Saturday May 7, 2022 at 1:00 PM at the Brayfield-Gilbert Funeral Home in Sesser with Brother Kirk Packer officiating. Visitation will be on Saturday from 11:00 AM until the time of the service at 1:00 PM at the funeral home. Burial will be at Horse Prairie Cemetery in Sesser.
For more information go to our website www.gilbertfuneralhomes.com