Jerry (Gerald S.) Greenwood, of Ironton, Ohio, went to be with the Lord on May 1, 2022.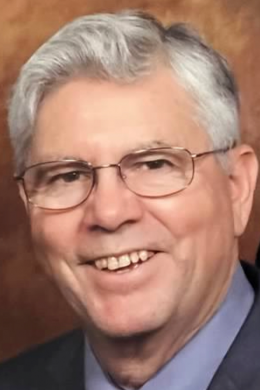 He was born June 17, 1939, to Clyde and Lena Marie (Clayton) Greenwood, in Wayne, Michigan, the youngest of four children. He was preceded in death by siblings James Greenwood and Patricia Dobbs and is survived by Donald (Karen) Greenwood.
He graduated from Southern Illinois University in 1960 with a B.S. in Forestry and from Ohio University with a Masters of Public Administration in 1990. He worked for the US Forest Service for 33 years and then became a timber consultant for another 10 years. His plans at an early age included becoming a hermit in the wild north, but these were blown to pieces when he saw a young girl walk across the campus. He married that girl, Phyllis Ann (Beaty) Greenwood, his partner in all things – from fishing to raising four children – for 62 years. He was active in his church, an ordained deacon and a Gideon. He is survived by his children, Cheryl (Bill) Ferguson of Cincinnati, OH; Daniel (Lisa) Greenwood of St. Louis, MO; Kyle (Karen) Greenwood of Denver, CO; and Sarah (Bill) Thompson of Cincinnati, OH. In addition, he is survived by nine grandchildren and two great grandchildren, all of whom gave him great joy.
Visitation will be at 11 a.m. to noon Wednesday, May 4, 2022, at Tracey Brammer-Monroe Funeral Home, 518 S. 6th Street, Ironton, OH 45638. Funeral services will follow at noon with Pastor Eric Barnes officiating. Graveside services will be Friday, May 6, 2022, at 11:00 A.M., in Benton, Illinois, at Masonic and Oddfellows Cemetery. In lieu of flowers, donations may be made to Gideons International, PO Box 1, Ironton, OH 45638, or First Baptist Church, Ironton, 304 S. 5th Street, Ironton, OH 45638.
For more information go to our www.gilbertfuneralhomes.com