Marion Louis Veach, "Bull", age 93, was called home by his heavenly father on April 29, 2022 at his home in Valier, Illinois where he lived his entire life.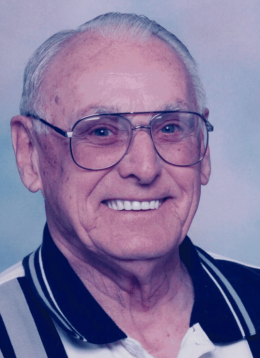 He was born on July 4, 1928 to Marion Louis and Mary Jane (Winn) Veach at their home on Rea Street in Valier. In 1947 Marion met his lifelong love Mollie, who he called his little Queen, at a football game. On September 3, 1949 they married and later had one daughter, Dixie (Veach) Miller, and one son, Jim Veach.
His family was the primary joy of his life. Those who knew Marion know that he spent his life in service of the Lord. Marion was known as a man of powerful, unshaking faith and joyfully lived his life following the teachings of Jesus Christ. He was a proud member of Valier First Baptist Church for 74 years and 60-year member of the Freemasons. During his time at the church he was an active deacon for 50 years, taught Sunday school, performed countless hours of carpentry work for the church, and even served as song leader for a short time. He was also known for his pre-meal blessings that could border on sermon-length at times and would prompt a polite elbow from Mollie as a reminder for him to wrap it up. His distinctive "Amen" that he spoke to affirm the message during services at Valier First Baptist Church will be missed by his church family.
Marion began his 40-plus year career as a coal miner and UMWA member in 1948. In 2019, Marion was named "UMWA Miner of the Year" and served as the Sesser Homecoming parade Grand Marshal. It was one of the proudest accomplishments of his career as a coal miner. The mines are where he would gain the nickname that would stick with him for the rest of his life. Marion was affectionately known to friends and family as "Bull". His father's nickname was "Bull" and when Marion began working at the mine with his father, his new co-workers called him "Bull" as well. It was truly a fitting moniker for an opinionated, stead-fast man. Bull was no stranger to difficulty in his life mainly due to his choice in baseball teams. He was a life-long Chicago Cubs fan that lived in the heart of Cardinal country. He attended only one Cubs game at Wrigley Field in his life and in his single afternoon as a bleacher bum at Wrigley field, half of his section were chatting with him, knew him by his nickname, and were taking selfies with him. One gentleman from Pittsburg, PA even texted a few months after the game to ask how he was doing and mentioned how happy he was to meet Bull because it made his own Wrigley experience that much more memorable. Bull was even interviewed by an MLB TV reporter at the game. Those that knew him well know that his cheerfully outgoing and friendly nature ensured that, no matter where he went, he never met a stranger.
Marion is survived by his wife, Mollie Veach; daughter, Dixie (Veach) Miller; son, Jim Veach; as well as his grandchildren, his great-grandchildren, and his nieces. He was preceded in death by his father, Marion Louis Veach; his mother, Mary Jane Veach; his sister Imogene (Veach) McBride, and his son-in-law, Evan Miller. Services will be on Monday May 2, 2022 at 1:00 PM at the Valier First Baptist Church with Brother Kevin Bradley and Brother Harl Ray Lewis officiating. Visitation will be Monday from 11:00 AM until the time of the service at 1:00 PM at the church. Burial will be at Maple Hill Cemetery in Sesser. In lieu of flowers donations can be made to the Valier First Baptist Church Building Fund. Envelopes will be available at the church.
For more information go to our website www.gilbertfuneralhomes.com