Beth Mandrell, 66, of Mulkeytown, passed away on Thursday, December 2, 2021, at Deaconess Midtown Hospital in Evansville, IN after a lengthy battle with COVID pneumonia.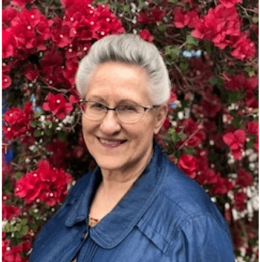 Beth was born June 15, 1955, in Du Quoin, IL to Gene and Marian (Inabnit) Flint. Being of a nondenominational faith she pledged her life to the Lord at the age of 12. She attended Mulkeytown Grade School and graduated as the valedictorian of her class in 1973 from Christopher High School. She attended Rend Lake College after high school and earned a licensed practical nurse (LPN) certificate. She worked as an LPN at Marshall Browning Hospital until 1977. She met her husband, Vernon in 1976 and they were married on December 22nd of that year. She was a housewife and mother until their youngest went to school and then she returned to the workforce as an aid in the Christopher Elementary School. While at CES she found her passion for libraries and she continued her work as a librarian for the remainder of her career.
She is survived by her loving husband of 45 years, Vernon Mandrell of Mulkeytown, children; Kara (Brad) Avis, Mt. Pleasant, IA, Aaron (Danielle) Mandrell, California, MD and Leah (Matt) Rolando, Ursa, IL, grandchildren; Peyton, Jacob, and Riley Mandrell, Carter and Audrey Rolando, mother, Marian Flint, DuQuoin, IL, brothers; Dave Flint, Mulkeytown, IL, Don (Angie) Flint, Mulkeytown, IL, and sister, Charlotte (Lance) Smith, Carlyle, IL, many nieces, nephews, cousins, beloved aunt and uncle, Martha and Glen Bauman, Sesser, IL, and special friends, Alvin & Doris Lloyd, Sesser, IL
She was preceded in death by her father, Gene Flint, brother and sister-in-law, Alan and Alpha Flint.
An avid gardener, Beth loved being outdoors working in her garden during the warmer months. A gifted seamstress and cake baker, Beth was extremely creative and loved sharing her gifts with others. She enjoyed resale shopping with her daughters to find treasures to repurpose or renew. A proud military parent, she loved to tell others about her son's journeys as a part of the US Navy. Spending time with her grandchildren was one of her biggest joys in life. She loved vacationing with family each year and especially enjoyed going to the beach. She had recently retired from Rend Lake College after working for 21 years as a reference librarian. Her love of helping others could be seen in the care she took when assisting students, teaching classes, reading to children, and helping to grow the LRC through fundraising and grant writing. A firm believer in education, she worked tirelessly to obtain both her bachelors and master's degrees after she turned 40.
The world was a brighter place with her in it. She was 'Momma Beth' and 'Miss Beth' to many people and touched those who were fortunate to have her in their lives. She found joy in helping and giving to others. Whether lending a listening ear or giving her time, she was always willing to take the time to be there for others.
Services will be held at Brayfield-Gilbert Funeral home in Sesser, IL. Visitation will be held from 5-8 pm on Sunday, Dec. 5 and funeral will be held on Monday, Dec. 6 at 10 am with Scott Potter and Jon Knochenmus officiating. Burial at Mulkeytown Cemetery and luncheon at Mulkeytown Grade School will follow. Attendees are asked to wear a mask during this difficult time to protect our family and friends.
For more information go to our website www.gilbertfuneralhomes.com