William Kelly Owens, son of Charles and Ruby Owens, was born on July 02, 1946, and departed this life November 28, 2021.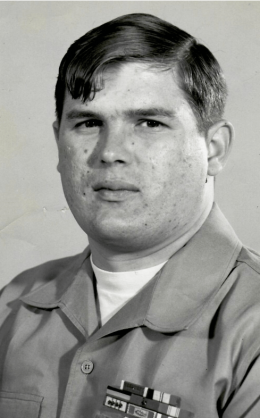 Bill grew up in Sesser, IL and enlisted in the United States Marine Corps in 1963. He trained at the MCRD in San Diego, CA and was then stationed at Camp Pendleton, Oceanside ,CA.
Bill served three tours of duty in Vietnam with the 1st Battalion 1st Marines 1965-1966 and was wounded three times receiving the Purple Heart.
A New York Times bestselling book titled "A Rumor of War," was written and published in 1977 by his Lieutenant, Pulitzer Prize winner Philip Caputo. The book detailed Bill's Platoon's Vietnam War combat experiences during that first tour amidst tragic circumstances surrounding the capture of the Viet Cong enemy. In 1980, A Rumor of War became a TV movie/ miniseries that aired on CBS.
Bill's second tour was 1968-1969 and his final tour stationed him at the US Embassy in Saigon where he was the personal bodyguard to the US Ambassador, Ellsworth Bunker. Bill was awarded the Medal of Accommodation which is presented for sustained acts of heroism and meritorious service. His classification was Military Intelligence Chief. Richard Nixon gave Bill a gold Marine Corp ring for providing impeccable security while at Nixon's west coast home in San Clemente, CA and during meetings in Saigon. Bill was very proud of having President Nixon recognize him simply as "Owens".
He was stationed at Camp Pendleton in Oceanside, CA three times and Cherry Point, NC as part of the Military Police Force and later as Duty Warden at the Brig.
Bill married Ruth Ann West on September 04, 1964, in the Baptist Church in Oceanside, CA. To this union was born two sons William Joseph- 1967 and John Dean- 1971. Both sons were born on the Camp Pendleton Marine Base.
Upon returning to civilian life, he served as the Police Chief in his hometown, Sesser, IL as well as organizing several local civic organizations.
Returning to Southern California, he served as Street Supervisor for Los Angeles, CA, Hollywood precinct for many years until his retirement. As a young man he learned about heavy equipment, diesel trucks and tractors, from his father, Charles. That knowledge would pay off later when Bill's primary job function was the purchasing of heavy trucks and equipment for the City of Los Angeles.
He maintained a second job as Firearms Instructor for the Los Angeles Police Academy- LAPD where he trained new police recruits how to properly use firearms. He also returned to the Marine Corp Reserves for a short stint as a Gunnery Sgt Drill Instructor.
After his retirement he served as the Illinois State President of the Vietnam Veterans Association and donated a lot of his time to help Disabled American Veterans.
Bill lived many of his years at his High Desert California ranch home which overlooked Edwards Air Force Base, located in the Antelope Valley. From his home, He had a front row seat for many of the Space Shuttle landings at Edwards. AFB. In his private life he truly enjoyed a good fishing trip to the Pacific, Colorado River, Lake Castaic, or a secluded farm pond tucked away in the countryside. He was an avid coin collector. He was also very passionate about riding his motorcycles which allowed him to tour the country extensively including many trips with fellow Viet Nam Veterans. In his younger days he, alongside wife Ruth Ann, he even toured Hawaii on a motorcycle.
He loved the camaraderie with his brother veterans, was always quick to pull a prank or tell a joke, and always was available to provide support.
In a tribute to Bill, his nephew Donn stated,
"He toughened me up at a time in my life when I needed it. He took me along on many adventures which aided me in years to come."
The charisma and fun-loving nature he always brought to family gatherings will be missed.
Most importantly, he will be remembered for his military service to his country as a Marine. Semper Fi Marine!
William was of the Baptist faith, and attended the Mt. Olive Free Will Baptist Church of Benton, received a BA from the University of Illinois for Criminal Justice.
He leaves behind his sons Bill and John of Benton, grandchildren Kylee and Erik Owens of McKinney, TX. Brother Richard Owens of Christopher, sister Lana Wymer of Ocala, FL, and companion and friend Donna Serritt of Herrin, IL. Was preceded in death by his parents Charles and Ruby Owens, brother Leon Baker, and daughter-in-law Kellie Owens.
Bill would insist that donations be made to the Marine Corps Toys for Tots, in lieu of flowers.
Graveside services will be held at 1:00 p.m. Friday, December 3, 2021, at the Masonic & Odd Fellows Cemetery of Benton, with Rev. Alan Minton officiating. Per Bill's request, Military honors will be provided by the United Staes Marine Corps. Family and friends are asked to meet at the cemetery.
Funeral Arrangements are through the Leffler Funeral Home of Benton.
To leave online condolences to the family, or to share memories of Bill, visit www.lpfuneralhome.com