George L. Del Longo, 89, of Valier, IL passed away on Sunday, November 14, 2021, surrounded by his loving family at his daughter's home in Benton, IL.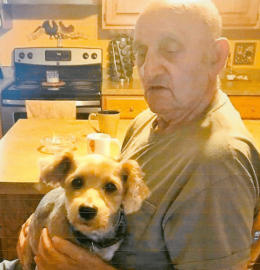 He was born on November 4, 1932, to Louis and Mary (Burralli) Del Longo in Argo, IL. George retired as a General Maintenance Operator for Greater Chicago Auto Auction. He married Patricia Burns and she proceeded him in death. To this union they had 5 children.
George was a loving father, grandfather and great-grandfather. He enjoyed fishing, family picnics, watching sports, playing sports and playing with his pet dog Dash Del Longo.
He is survived by his three daughters, Margaret (Bill) Murphy, Karen (Carl) Batzel, and Shelly (Henry) Shelton; one son, Michael (Leslie) Del Longo; eleven grandchildren, Lynn Nielson, Sarah Genovese, Jill (Justin) Summary, Heather (Jeremy) Killmer, David Diaz, Patricia (Kendall) Spriggins, Justin (Sarah) Batzel, Jeremy (Lindsay) Batzel, Mark (Christina) Rangel, Michael (Lauren) Rangel, and Melanie (Michael) Benns; 25 great-grandchildren; brother-in-law, Mike (Cathy) Burns; many nieces, nephews, cousins and friends.
George was preceded in death by his parents Louis and Mary Del Longo; wife, Patricia Del Longo; daughter, Deborah Ann Genovese; sister, Elizabeth Jessie; brother-in law, Carlon "Earl" Jessie; brother, Raymond Del Longo; and a sister-in-law, Lorrane Del Longo.
Services have been entrusted to Pate Funeral Home, 301 South Main Street, Benton, IL. A celebration of life will be held at a later date and burial will take place in the Holy Sepulchre Cemetery, Alsip, IL.
Online condolences can be given at www.patefh.com.