Joseph "Joe" P. Philipper, 49, of Karnak, IL passed away on Thursday, November 11, 2021, at Massac Memorial Hospital in Metropolis, IL.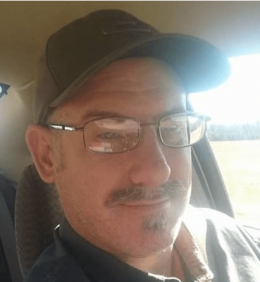 He was born on August 30, 1972, to Jack McCarthy and Nancy (Novak) Philipper in Hinsdale, IL. On August 9, 2016, Joe married Beth Bledsoe.
Joe enjoyed fishing, finding treasures with his metal detector, working and helping others.
Joseph "Joe" is survived by his loving spouse, Beth Philipper, mother, Nancy Philipper; step-son, Jason Sisco; step-daughter, LaRhonda Sisco; step-grandchildren, Brandon Griffin and Terry Griffin; sister, Carole Berglund; niece, Elizabeth Berglund; nephews, James Berglund and Billy Berglund; sister-in-laws, Donna Marshell, Sharon Conner and Anna Glowner; and several other nieces and nephews.
He was preceded in death by his father, Erhard Philipper and sister-in-law, Wanda Ward.
Arrangements have been entrusted to Pate Funeral Home, 301 S. Main St., Benton, IL.
Per Joe's wishes, cremation will take place.
Online condolences can be given at www.patefh.com.