Linda G. Summers, 75, of Benton, passed away at 6:35 a.m. on Thursday, November 11, 2021, at Herrin Hospital.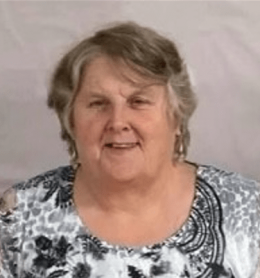 She was born on May 4, 1946, to Troy and Vevia (Threewitt) Knight in Benton, IL.
Linda was an active member of the West City Church of God.
She was a loving mother, grandmother, great-grandmother, sister and friend to many. Linda enjoyed singing, collecting figurines, reading, spending time with her family, and decorating for the holidays.
Linda was preceded in death by her parents, Troy and Vevia Knight; four sisters, Kathy Gulley, Shirley Summers, Marilyn Knight, and Audrey Gilliam; two brothers, Donnie Knight and Eddie Knight; husband, Ronald Summers; and grandson Oliver Hutchinson.
She is survived by her five loving children Kim, Tim, Kevin, Kristie and Heather; four grandchildren Andrew, Olivia, Lucus and Sydney; two great-grandchildren, Bentley and Lily; two sisters, Joyce and Judy; and many loving nieces and nephews.
Funeral arrangements have been entrusted to Pate Funeral Home, 301 S. Main St., Benton, IL.
Visitation will be on Monday, November 15, 2021 from 1:00 p.m. to 3 p.m., at Pate Funeral Home.
Funeral service will be held following the visitation at 3:00 p.m., at the funeral home with the Reverend Harol Whitlock, officiating services.
Burial will take place in the Masonic and Odd Fellows Cemetery, Benton, IL.
Memorial Contributions may be made to West City Church of God, and will be accepted at the funeral home.
Online condolences may be expressed at www.patefh.com